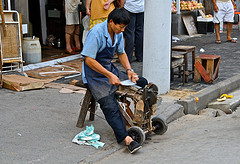 Smart small business owners are constantly learning and sharing tips and tricks of the trade, not just to stay ahead of the pack, but to keep their own skills sharp. This week's roundup features seven posts from around the web that focus on business best practices.
Image: Sung Ming Whang via Flickr, CC 4.0
Why: Do you want to know how to price your products more effectively? In this post for Tuts+,  Andrew Blackman explores why paying a little attention to the details of pricing could make a big difference to your bottom line.