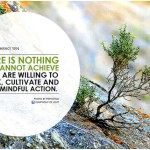 The term "thought leadership" is slowly slipping into the gray anonymity of overuse. It seems like I'm seeing it used for everything from "how to solve world hunger" to "how to change your kitchen sink."
The question that must be answered, in my (probably less-than) humble opinion is:
"What truly does define a 'thought leader'?"
I would argue that a good starting point would be what I describe to my students at Curry College, where I ride herd over our Public Relations Concentration, as an "opinion leader." An opinion leader, as I tell my disciples, is someone whom you instinctively look to for guidance.
In very basic terms, this can be anything from "how should I dress for that PRSA meeting I'm attending?" to "what advice should I give my client or boss on dealing with the current dilemma facing us?"
But thought leadership takes this concept to a higher level by anticipating change, and offering a carefully-considered viewpoint that gives rise to further consideration, discussion, and action by others.