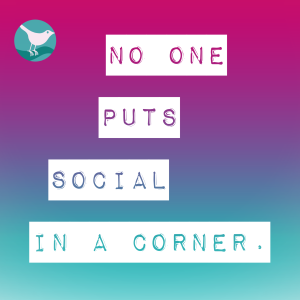 As I was working on a strategy memo yesterday, I started noodling with Venn diagrams (I love those things) to illustrate what a truly social PR strategy should look like.
Why? Because I think we often talk about how such a program should work, but for a lot of people – clients included – it's hard to really understand that unless there's some kind of visualization involved.
What is a bit frustrating is when clients don't understand how it should work because their agencies haven't explained it to them properly… and nine times out of 10, that's because the agency itself doesn't really have a clue. It's seen and heard enough to do a cut-and-paste job on a PowerPoint deck, slap some logos on it and present it as a "social media strategy."
But most of the time, social media is only used to push pre-approved messaging out, and there's nothing strategic about it.
I've been trying to figure out why this is still happening. And the sad truth, I think, is that it's not uncommon for practitioners to still think of social media strategy as something that is separate from the greater communication or PR strategy. And I believe this happens primarily because even today, many practitioners do not understand the mechanics of social networks, let alone the interplay between traditional and social media. As a result, they have no idea how to strategically integrate the two.
But no one puts Social in a corner.