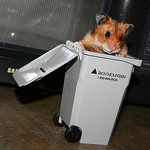 I recently had a "talk 'em off the ledge" conversation with a young friend who has just passed the half-year mark with a big-city PR firm. She had targeted this particular firm because its focus and client mix mirrored what she had been passionate about in college, and she dove in with enthusiasm.
Image: Nehama Verter via Flickr, CC 2.0
But, as those of us who have "been around the block" a few times know so well, nothing's perfect, especially when it comes to working for a living, which I've talked about before.