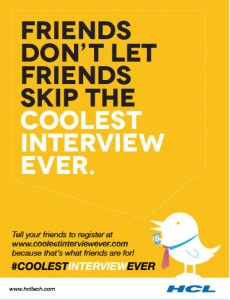 Disclosure: HCL is a client of my agency, Six Degrees PR. However, the campaign partners are ITSA Brand Solutions and FrogIdeas. I thought this was an interesting campaign, and wanted to share my thoughts with WUL readers.
Have you ever been to an interview where you don't have to speak at all, yet are expected to answer whatever the interviewer asks?
Sounds weird? Think again. Because India has been buzzing over the #CoolestInterviewEver, where one of the country's largest companies wanted you to be "cool" enough to work for them.
Recently HCL Technologies (NSE: HCLTECH), India's fourth largest software services firm, started a global recruitment campaign on Twitter. Here's how they said it would work:
Respond to questions on Twitter: Over a two-week period, participants were to respond to various questions posted on Twitter (this round closed on Feb. 21, btw). One hundred would be selected to participate in the next round, which was …