Estimated Reading Time: 4 minutes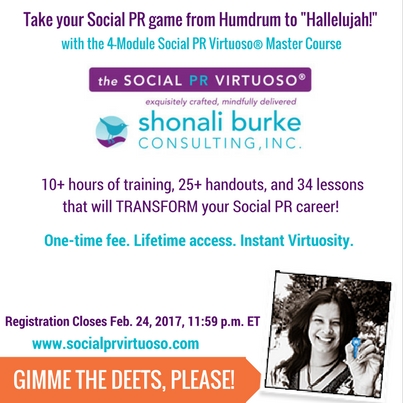 This Saturday, at about 2:45 pm EST, the clouds parted, the angels came out to sing, and all of Ireland finally found out where leprechauns hide their gold.
OK, it didn't happen quite like that (#AlternativeFacts), but here's what DID happen:
Two-thirds of the way through my free, LIVE online training, "Lift Off!," I announced the reopening of The Social PR Virtuoso® Master Course, my online, on-demand course on all things Social PR.
You'll have immediate and lifetime access once you sign up, but registration will close on Feb. 24 (midnight EST).
Here's what you get when you sign up:
a 4-module Social PR Master Course built around The 7C Social PR Framework™, my signature, PROVEN approach to effective Social PR that helps generate business results.