Estimated Reading Time: 9 minutes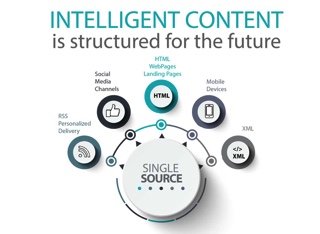 Guest Post by Kathy Vaské
Intelligent content aka structured content is breaking out of its traditional boundaries. No longer is it used solely for product catalogs, technical specifications and the like.
Today, organizations are looking to use Structured Content for their ebooks, case studies, research reports and blogs. Why?
With the dynamic and ever-growing number of ways to consume content, there is a need to structure as much of our "valuable" content so it's free to be automatically discovered and reused across multiple channels and devices and in a variety of previously impossible contexts.
A piece of "intelligent" content can be created once and served up in many places automatically e.g., blog article served up on an Apple Watch or Google Home. Now that's intelligence.
What is Intelligent Content?