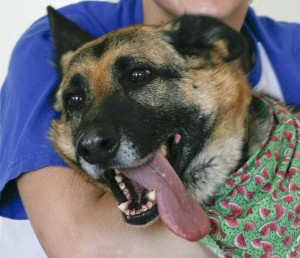 Since I first blogged about Darby the (female) German Shepherd, there's been a lot of interest in her and her situation. There are so many people who have helped spread the word, and continue to do so, that I couldn't begin to list them all here. But you know who you are, and I thank you from the bottom of my heart.
As an aside, almost all of you have connected with me through Twitter – what an incredibly effective communication platform (and guess what, Darby decided to get on Twitter too).
A few more details on Darby have emerged in the last few days, as well as answers to questions I've been getting. So here's the Darby FAQ (remember, I'm not a dog trainer or behaviorist and am simply telling you what I've been told – any of this could change based on the environment Darby is in):
What's the deal with the aggression?