Estimated Reading Time: 8 minutes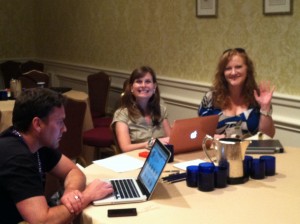 If you've ever had an opportunity to attend a conference come your way and turned it down, thinking, "This isn't directly related to what I do, what will I gain from it?"… read on.
I've been out for the last few days, attending (and speaking at) the 2012 PRSA Counselors Academy in New Orleans. This was my first time attending this conference, which is geared towards PR agency owners, providing a forum for them to share and learn from each other, not just from a professional development point of view, but from a business development and profitability point of view.
(That's Derek Skaletsky of Traackr, Gini Dietrich and Johna Burke of BurrellesLuce, in my breakout session.)
So I didn't know what to expect when Martin Waxman, co-chair of this year's Academy, urged Pierre-Loic Assayag of Traackr (necessary disclosures: I was a beta user of Traackr, have built one of their showcased Alpha-lists, love their service, and participated in their first certification program last week, for which – and only which – I was personally compensated) and I to submit a proposal to speak.
And given the extreme changes that my own career has taken, I wasn't sure if what I could offer would be of use to the attendees.