Estimated Reading Time: 6 minutes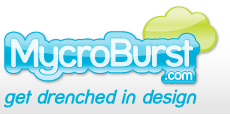 When I was at BlogWorld
a couple of weeks ago, I spent quite a bit of time walking around the exhibit hall.
That's where I met up with Jordan, Jeremy and Jenna of Livefyre (does your name have to start with a "J" to work at there?), got my mugshot taken with "Go Granny" and generally felt happy that I was there and a part of this whole blogging thing.
One of the booths I spent the most time at was the MycroBurst one. Frankly, not because I was deathly curious about MycroBurst, but the folks looked inviting. But when I started talking to them, I thought MycroBurst was a neat concept, so I wanted to tell you about it. And there is even a special offer for … well, you'll have to read all the way through first!
In a nutshell, MycroBurst helps you crowd source any kind of design.
Website, logo, stationery, t-shirt – you name it, there's a community of designers signed up there to vie for the honor of creating your project. You simply select what kind of project you want, post the info along with how much of a "prize" you're offering (they suggest $149 as a starting point, obviously if you offer a higher prize, you're likely to get more entries), and then a contest starts among the designers (examples below, image courtesy MycroBurst).