Estimated Reading Time: 5 minutes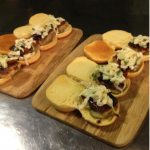 Guest Post by Jamie Garantziotis
Since making the journey from Australia to New York, I continue to be blown away by the use of social media communication by brands and businesses, and the hyper-connected nature of their communities.
This was taken to a whole new level recently during a birthday dinner for my friend at downtown restaurant Lowcountry.
What set this experience apart as the greatest social media-friendly dining experience I've had?
Lowcountry listened, acknowledged, responded and added value both online and "in real life" (IRL).