Estimated Reading Time: 8 minutes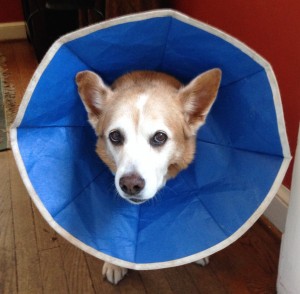 I don't know if you noticed, but WUL started up at the beginning of this week after a fairly brief hiatus. I didn't announce the hiatus, as I've done in the past, nor did I announce its return. We just kinda… went away… and came back.
The reason we went away was the reason most blogs go away, either temporarily or permanently. Other things take priority over the time one spends blogging, tweaking, editing, linking… and when there is a team of bloggers to manage, that is a lot of time, even if one has help.
The story
This time around, it was literally a matter of life or death. One of our dogs, Suzy Q. – who basically imprinted on me from the first time she walked into our home and with whom, as a result, I have an extraordinary bond – had a tumor in her mouth. It came up very suddenly; it seemed to grow overnight.
And what started out in late March as, "WTF is that big piece of bubblegum in Suzy's mouth?" (that's what it looked like), quickly snowballed into what felt like never-ending rounds of vet visits, surgery, biopsies and, ultimately, the dreaded "C" word. Unfortunately her tumor was an aggressive oral melanoma""and of the myriad cancers out there, that's one of the worst anyone, canine or human, can get.