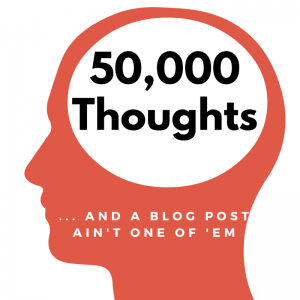 I've been traveling all week in Athens, Ohio. Dan Farkas set the wheels in motion for me to be a 2016 Sloan Speaker at the E.W. Scripps School of Journalism at Ohio University in this extremely beautiful college town… the first time I've done something like this.
I'm almost at the end of my week-long "assignment, and my mind is racing.
I've met some really incredible people this week; faculty, students, and just regular Athenians (I'm guessing that's what you call 'em?). They're hard-working, really friendly and hospitable.
It's been action-packed; I got here last Sunday and have taught a total of 13 classes (plus spoken at a PRSSA meeting) – so to say I'm tired is an understatement.
As this hits your inbox (or reader), I will be catching up on work and then getting ready to head home via Columbus. I'm catching up with Kate Finley and Dan on the way back, so by the time I get home, I'll probably be wired yet exhausted at the same time.
And the wiring is completely due to adrenaline as I haven't had an alcoholic drop to drink in 47 days (but who's counting?).
I had a bunch of ideas on what I could, should, write about for my regular Friday post. But as I type this, there are some really noisy St. Patrick's Day revelers right outside my hotel room.
It's about all I can do to not go out there and be the traveling equivalent of the curmudgeon who yells at you to get off his lawn. So writing something business-focused – such as answering seven frequently-asked questions on Social PR strategy – is out of the question.
I find that when I've been on the go so much, I need a lot of time for my thoughts to calm themselves down. Chuck Borghese, who I met this week, said he'd heard we have 50,000 thoughts a day… so of course, I haven't been able to stop thinking about that, because if that is true, it is WHACK!
The jury is out as to whether or not that is really the case, though…
I'm so tired that I'm actually not thinking about all the stuff I have to do once I get back. After all, work doesn't disappear, it simply multiplies to fill the (mind)space available, right?
I've been thinking about how lucky I am that I got to do this week-long trip to Athens. I love teaching, and to spend 5 consecutive days among bright, discerning, practical, hardworking young people has been very energizing while also exhausting.
People: there is hope for the PR industry yet and it lives in Athens!
I've been looking for Corgi puppy videos, because my husband mentioned he saw someone share one on Facebook. So of course, now I'm obsessed with trying to find every single Corgi puppy video accompanied by the exhortation that "if this doesn't make you smile, nothing will" (and maybe it'll drown out the noise in my hotel hallway).
I'm thinking about how great it was to get some time to do "techie" stuff last night… stuff I need to learn as I get more Social PR Virtuoso stuff up and running, and which I just hadn't been able to focus on up until now. Yay for quiet hotel rooms (except on St. Patrick's Day)!
I'm thinking about how busy everyone is, yet how some of you take the time to share and comment on posts, on Facebook, on Twitter. I really appreciate it. Thank you.
Apparently we might get some snow this weekend/early next week. Can someone tell the weather gods that DC's cherry blossoms really want to come out? And I'm going to scream if I have to shovel so much that I'm too tired to go to barre class.
50,000 thoughts… and blogging just ain't one of 'em.
So … what's on your mind?