I saw this Someecard and it made me laugh: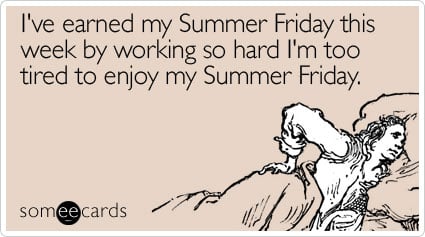 Even though it's not Summer Fridays any more – at least, in this hemisphere – I know exactly how that feels.
And, I suspect, so do you.
I just got back from Des Moines, Iowa (lovely people!), and next week I'm off on business trip to Joizee. And even better, I'll be traveling 0n Halloween.
I know it's not a regular holiday as such, but shouldn't such things be banned on Halloween?
I'm recovering (I hope, I have to go back to the doc in a couple of weeks) from what was apparently an infection of the submandibular gland (yes, there is such a word and thing outside of sci-fi movies), which may or may not also have to do with being stressed.
It felt like having a golf ball in my throat, and one of my friends helpfully asked if he should sympathize or instead yell, "FORE!"
(Which did make me grin.)
And normally I'd be getting rid of (at least some of) my stress by working out, but I've felt like crap, so that's been off the table as well.
So I'm a little cranky.
Yes, I know these are "first world problems," but you know what… they're what I'm dealing with right now.
And Someecards made a crappy day a little better.
So happy Friday and have a laugh on me. And have a fun and safe Halloween!