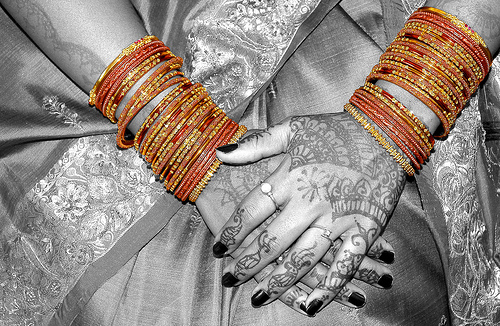 I originally published this post when Fall was setting in last year. It didn't get a lot of attention then, but it remains one of my favorites. And since "clocks and calendars" will be colliding again as 2012 sets in, I'm reposting it with a few modifications for the time of year, to give you a sense of where I come from, and where a part of me will always be.
Happy New Year in advance for tomorrow… and remember, celebrate safely!
My body clock jogs me awake.
The calendar turns to another day.
Winter sets in in the Western Hemisphere
telling me where and when I am.
My brain obediently responds,
yet my essence is tugged by the magnet of memory.
Genes tussle with mind
over
where I am
where I was
where I should be
where I cannot be.
Wavering temperatures, timidly-coppering leaves, are the here and now.
Monsoon relief and the festival season are the there and then.
An alarm clock, an iPhone's buzz, a dog's cold nose, are the here and now.
The cawing of crows, the muezzin's call, the milkman's bell, are the there and then.
Suburban solitude, domesticity, neatly-numbered blocks, are the here and now.
Discordant, concordant, flamboyant, triumphant jamborees of sound, color, bustle, dust, life, are the there and then.
Google+, Skype, Twitter, Facebook, Amplify, are the here and now.
Saris, street vendors, bangle-sellers, processions, happily homeless dogs and cats, are the there and then.
Husband, pets, my dearest friend an ocean away, growing-dearer friends a phone call away, no one a doorstep away, are the here and now.
Mother, father, brother, sister, aunts, uncles, cousins, all too numerous to count, are the there and then.
I was there then.
I am here now.
I loved it there then.
I love it here now.
I wanted here then.
I miss there now.
I am in both places, no place, some place, which place?
When clocks and calendars collide.
Image: Pinto Alex via Flickr, CC 2.0