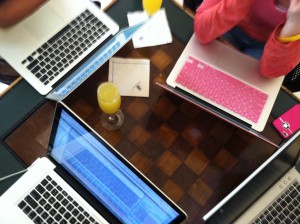 Yesterday I was scrolling through my Feedly to see if something caught my eye enough to riff off of for today's post.
There's plenty in there for me to read; I'm woefully behind on my blog reading (and commenting, and sharing… sigh…). But as I scrolled through a number of posts, I could not find one that made me stop and think about a new way of saying something that everyone else has said before, related to public relations, or marketing, or social media.
Then I found Exercises for Writing Conversationally by Bethany Cramer, over on my friend Heather Whaling's blog.
So I decided to write about something else entirely. Something I love to do. Because we should do more of what we love, and less of what we don't.
I love to dance
I believe I have mentioned before how much I love to dance. There is a reason my ringtone has been "Dancing Queen" ever since I got a cell phone; that, and the fact that I adore ABBA. I'll Ally McBeal it like no one's business when crossing a street, and you better watch out if you put me on a dance floor and don't give my moves enough space. I love to dance.
I danced frequently up until my late 20s. For a long time, it was part of what I did (acting, directing and teaching theater), and for a long time it was part of what we did (friends hanging out, dancing the night away at the local Kolkata hot spots). Then I moved here (to the U.S.), and started my life all over again.
I love(d) to dance
While I danced occasionally (my husband still recalls catching me whirling like a dervish in our living room – this was in the few months after I emigrated and before I started my first job – in my bathrobe… to ABBA) for many years it was not a regular part of my life. I missed it dreadfully.
I started and stopped, due to one thing and another, and another, and another. And now I've finally started dancing again.
I love to dance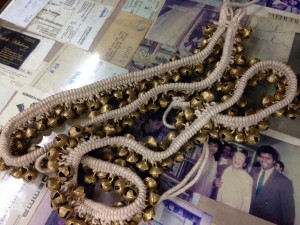 I've been taking lessons in a form of Indian classical dance called Kathak, which is one of the most beautiful, minimalist dance forms in the world. It's all about telling stories through long, lean lines, fast footwork while wearing 100 bells on each ankle, and drawing the audience in through the merest arch of a brow, or flick of the wrist, or tip of the head.
My Kathak classes are temporarily on hold while my arm heals (the whole falling on ice and hurting my elbow thing), but I will resume them just as soon as I can.
I've also been taking swing dancing classes, which is wildly different from Kathak, and I love love love it. I'd learned the basics as a child – I get the dancing gene from my mom – but it's a whole different ball game to actually learn steps like the "Suzie Q." and the "Texas Tommy" and the "Swingout," and then put them together in the Lindy Chorus. And assuming my husband and I actually make it to the Frankie100 celebration at Glen Echo Park next Saturday, I'll be in jitterbug heaven.
I need to dance
You know my dog is going through ongoing treatments for cancer (we went for her third melanoma vaccine on Wednesday and she is learning how to eat neatly without half her jaw). Cancer seems to be all around.
From the relatively benign but irritating basal cell carcinomas my husband regularly sees a dermatologist for; to Suzy Q. (see there's a swing move called "Suzie Q.?" How about that for a coincidence?!); to a friend of mine who is in the terminal stages of lung cancer, I don't seem to be able to get away from it. At some point hopefully I will, but it doesn't seem likely right now.
And so I dance
For release, for relief, for therapy, for exercise, for joy, for life.
I hope you do too.