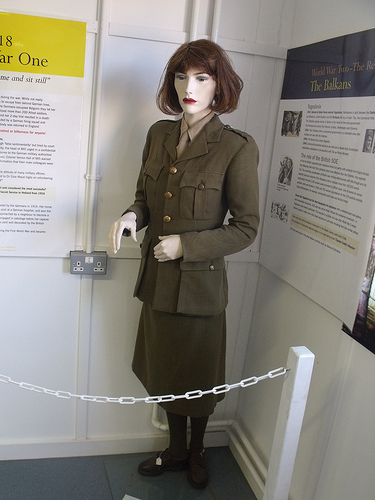 Harrison Kratz shared an interesting infographic with me the other day, which I wanted to share with you.
It's called "Women @ Work" and, as you can probably tell, it's a snapshot of where women stand today in the workplace.
It has sound bites from the likes of Arianna Huffington, Sheryl Sandberg, and Sara Blakely (who's going to admit to owning at least one pair of Spanx, then?).
I love seeing how much women have advanced in the workplace, but part of me also thinks we are having the same conversation over and over again. Pulling from the original MBA@UNC blog post:
Some common themes in the conversation:

Confidence: Media pioneer Arianna Huffington cites lack of confidence as a killer to success for women. In order to advance their careers, women need to be comfortable seeing themselves as qualified leaders and risk takers.

Fact: 40 percent of large companies have no women on their boards and only 5 percent of startups are owned by women.

Inclusivity: Facebook COO Sheryl Sandberg and "Change the Ratio" blogger Rachel Sklar are vocal about female inclusivity and encourage women to support each another at all levels. When organizations actively consider women as key stakeholders, the results often prove to be beneficial for all.

Fact: Companies with more equalized gender distribution have 30 percent better IPOs.

Knowledge:  For innovators like Spanx founder Sara Blakeley, it's not just about what you know, but what you don't know that can set you apart. Women need to understand their strengths and how to leverage what they don't know as their greatest assets.

Via MBA@UNC MBA Online & Women 2.0
I remember
the first time I heard about International Women's Day; I was probably 7 or 8 years old. It excited me that there was a special day for women, but I also remember thinking that we – as a gender – were being treated like a rare species.
As in, were women that unimportant that a special day was needed to remind the world that we – 50% of the world's population! – are here?
I've since come to see, and appreciate, these special days, because I do think they help us in general.
But when are we going to progress beyond the same conversational themes (not to ding the infographic, I do like that, but it's made me think) about women, gender equality, disparity in the workplace, moms as opposed to "non-moms" and really elevate the conversation…
… or is it always going to be some version of this conversation (much like the "PR is not just media relations" conversation), since we're always educating (hopefully) new people?
I don't know.
What do you think?