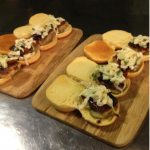 Guest Post by Jamie Garantziotis
Since making the journey from Australia to New York, I continue to be blown away by the use of social media communication by brands and businesses, and the hyper-connected nature of their communities.
This was taken to a whole new level recently during a birthday dinner for my friend at downtown restaurant Lowcountry.
What set this experience apart as the greatest social media-friendly dining experience I've had?
Lowcountry listened, acknowledged, responded and added value both online and "in real life" (IRL).
How did it do this?
Listening
Beverage Director Tisean Daniels paid attention to the tweets (below) and mentions of the restaurant coming from our table of social media-loving guests.
He then communicated promptly to staff and Executive Chef Oliver Gift that there was a birthday being celebrated and content relating to the restaurant being shared in social media.
Acknowledgement, response and added value
With a small team running the social media accounts, Tisean and Oliver were empowered to acknowledge and respond in real time – welcoming our group and offering  a special complimentary round of birthday drinks – just check out the tweets!
In addition to the digital hat tip, both Tisean and Oliver took the effort to introduce themselves in person, check on our experience and engage in some great conversation (taking it offline).
In between calling orders and coordinating meals, Oliver even managed to read up on our Twitter bios and spoke to one member of our party about their shared home state – doesn't get more personal than that, right?
If that wasn't enough, they were kind enough to tweet out that a complimentary serve of pork belly sliders were on their way (delicious!), and Oliver also warned us from the kitchen via Twitter that we'd need to save room for dessert.
Shortly after, two complimentary chocolate-caramel cakes arrived to finish an incredible meal (I'm still working off the calories).
In amongst that, they were also kind enough to send a hat tip and mention to their suppliers – a nice piece of real time business-to-business promotion and acknowledgement.
Here's a selection of the Twitter engagement:







Following through with the conversation
Needless to say, we were all blown away by the experience and the service from the team, and weren't shy in tweeting our praises.
Still paying attention, Tisean and Oliver again responded immediately, thanking us for attending and asking us to let them know when next we visit so they can take care of us.
The lessons for businesses?
The power and importance of real time recognition, acknowledgement and action cannot be underestimated in gaining and retaining fans and consumers, and adding to the wider brand value and experience as you connect on and offline.
Sure, it's hard for businesses to scale this kind of attention and response. But it's something that small and large businesses alike are allocating resources to as they seek to take advantage of this opportunity to service their community in an ongoing fashion through these channels.
As for social dining, this experience certainly sits at the top of my pile … and I'll definitely be a repeat customer.
That said, I'd love to hear about any great social dining experiences you've had, or real-time interaction with brands that have met and exceeded your expectations.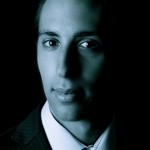 Jamie Garantziotis is an Australian communication professional who he began his career with Southern Cross Austereo, and was most recently the Member Communication Chair for IABC Victoria.  Normally based in Melbourne, Australia, he's currently in New York City for three months exploring and enjoying the convergence of media, communication and technology as he looks for work opportunities. When not indulging his passion for media and communication, you'll find him cycling in search of the perfect cup of specialty coffee.