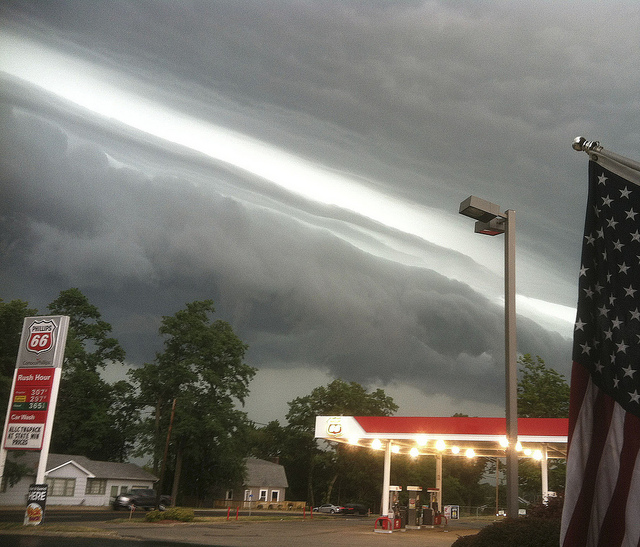 Storm clouds gather
Even if you don't live in the U.S., you probably heard of the unbelievably harsh storm – a super derecho or land hurricane, see pic – that hit many of us, particularly on the East Coast but apparently as far into the country as Indiana, this past weekend.
Image: NASA Goddard Photo and Video via Flickr, CC 2.0
For us, it was Friday night (June 29). I was already in bed (hey, I do bootcamp, I have to go to bed early!) but woke up when we lost power (which was at 11:09 pm… I know because when it finally came back on, that was the time that was flashing on our phone).
The next day – June 30 – was my husband's birthday, so I'd probably have woken up around midnight anyway, but for a completely different reason.
Three days of hell
So began three days of what felt like hell. It's bad enough that you end up having to throw all your food out when the power goes out for an extended period of time, but add scorchingly hot temps, an emergency water restriction, and three dogs who have no idea what's going on… you get the picture.
However, we did get our power back on Monday evening, and count ourselves very lucky; there are still people in our area who don't have power, and who may not get it back until Friday night.
In fact, as tough as it was on us, we were really lucky:
None of us died

We don't have kids/small children/older people whose lives were in danger

Our home wasn't damaged and, in fact, our neighborhood got off relatively easy, as we saw when we drove around on Saturday morning (got out early to grab breakfast, gas & ice!)

Even with the restriction in place for a couple of days, we still had water and gas, so I was able to cook something akin to a birthday meal for my husband

Our neighbors lent us their generator before they left for the beach, so at least during the day, on one day, we were able to cool down somewhat

I was able to get us a reservation at a nearby hotel on Monday (using my points, so we didn't even have to pay for it!), and I can't tell you how blissful it felt to be able to take a proper shower. They didn't accept pets (hotels really need to figure the pet-friendly thing out, IMHO, given how crazy we are as a country about pets), but it was close enough to our home that we could come back to check on them… and, in fact, that's what we were doing on Monday evening when the power came back.
And today, the day we celebrate our country's heritage and legacy as the "land of the free and the home of the brave, we actually have power, and I can write this post.
We take so much for granted; it's only human nature. In the developed world, electricity is one of those things. And while Pepco and other electric utilities are coming under fire, as they always do when such a severe weather event occurs, and there's a lot I wasn't pleased with, they did get my power back on.
I have strong opinions on what they do, and don't do, right from a communication point of view, but I'm eternally grateful to their crews on the ground.
So today, I'm going to keep reminding myself how lucky I am.
Not just that I am a citizen of, and live in, the land of the free, but of all that I have, that gives me the freedom to do the work I want and not have to do; to be where I want and not have to be; to be with who I want and not have to be.
Happy Independence Day.