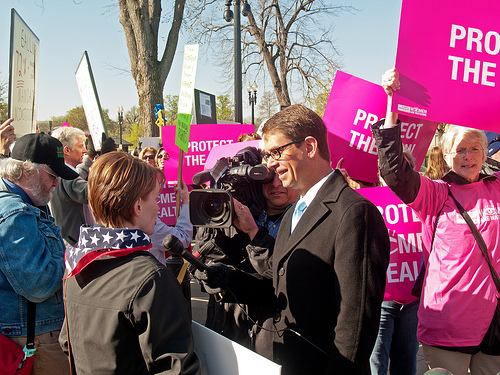 If you've ever wondered what my politics are, you've probably been kept wondering for a while.
Because I don't usually talk, or write, politics. It's not my bag, and it's certainly not WUL's bag.
Which makes me quite a strange duck in terms of living and working in a town that eats, breathes, and sleeps politics, doesn't it? (Ironically, when I was in college political science was one of my minors – the Indian equivalent – and I excelled at it. Those were the days…)
But even for someone who isn't an avowed political junkie, yesterday was truly a remarkable day.
Because to be a part of the public relations profession…
… working for an agency that does a ton of (great) work in the health care area…

… be physically in D.C…

… to be able to not just disseminate the news, but to be able to watch major media outlets try to figure it out in real time…

… to see, thanks to great relationship-building and hard work, a colleague's excellent op-ed run in one of the major trades for our industry…

… and to then create relevant content for our company's owned media channels …

… all in the space of three hours…
Wow.
Seriously, it was like being in a Dan Brown novel. When they say, "You can't make this stuff up," tell you what, they're not joking!
It was a pretty amazing day.
Not so much because of the ruling itself (I'm still not offering an opinion on that either way), but because yet again I saw, in action, the incredible gift technology has given our profession and, in fact, everyone;
Because I saw, in real time, how we are not just consumers, but curators and creators of content;
Because we were able to originate decent multi-media content in a way that would have been impossible 10 years ago;
And we did it at no cost to our firm.
Really. Quite. Amazing.
The Supremes rang my bell yesterday, when I absolutely didn't expect them to. How about you?
Image: majunznk via Flickr, CC 2.0
How are you taking advantage of the changing technological landscape? Are you using it to showcase your firm's (or your own) thought leadership? What else are you doing, how else are you using digital media creatively? Do share!