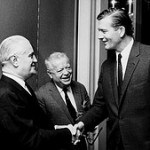 Guest Post by Jamie Garantziotis
I was having a conversation with a fellow member of the communication community recently when they mentioned that a certain pro wasn't really a connector.
Now, while this was in the context of making introductions, I was a little surprised. And it started thinking a bit more about the modern communicator as a "connector."
In the "hand-shaking" sense of the word, it's true that some communicators are more extroverted than others … and are more than comfortable meeting and conversing with others in social and professional environments.
From my experience in these early years of my career, I've found that connecting, meeting with, and learning from fellow pros has been the most rewarding part of my professional and social life – and it's something I'd encourage communicators of all levels and experience to pursue (especially students!).
As a close friend of mine once said to me – you never know who you'll meet and what kind of a relationship you'll be able to begin at a meetup, event or simply over coffee. So why wouldn't you want to be there to pursue and embark upon such opportunities and journeys?
Switching to the side of communication as practice, connecting people to people, and people to information, is at the core of what we as a collective of communicators do.
That is, we build and maintain relationships. And if we do it well, we have the opportunity to be part of a collaborative community (and yes, social and digital media have increased our ability to do so in real-time, and more than ever before).
So, even if you don't consider yourself to be the most extroverted of types or the life of the party at every meetup or event – remember that you are a connector, and that people, connections and relationships are the core of what you do.
It's a wonderful wide world out there with endless opportunities to connect, learn and grow.
Go get "˜em.
Image: kheelcenter, Flickr, CC 2.0.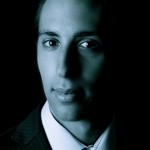 Jamie Garantziotis is an Australian communication professional currently in New York City for three months exploring and enjoying the convergence of media, communication and technology as he looks for work opportunities. When not indulging his passion for media and communication, you'll find him cycling in search of the perfect cup of specialty coffee.