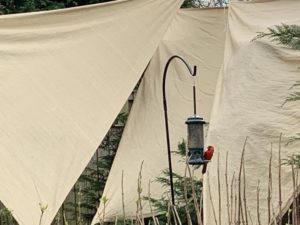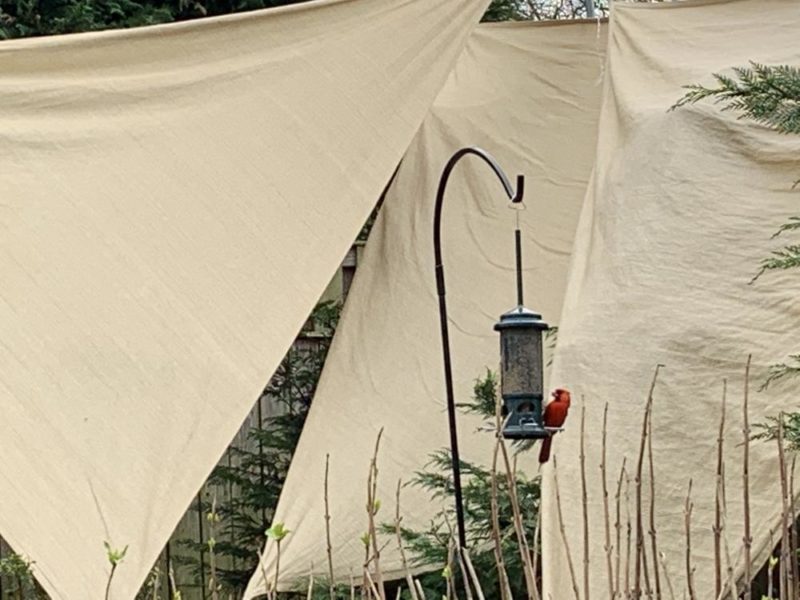 "It's the end of the world as we know it…"
Before I go any further: I hope you and yours are safe and well.
Now. Talk about the world being turned upside down, right? I imagine I'm not alone in R.E.M.'s "It's the End of the World As We Know It" running through my head…!
***
This pic is of a bird feeder in my backyard. The sail thingies you see are a privacy screen, but apparently they are also perfect squirrel trampolines 😉.
I was never a "bird person" growing up. However, I developed a bird feeding habit several years ago thanks to my late husband (he loved animals; so much so, he was frequently called "St. Francis" as a child!).
I'm so glad I did.
Because now, one of the greatest joys of my life is to contribute, in a small way, to the wellbeing of these wee creatures with whom we share the earth.
It's also very fun to watch squirrels essentially do a "pole dance" when they're trying to climb the bird feeder… and slip off. My very own "Backyard TV" 😜!
***
It is easy to succumb to panic and fear as we go through the global COVID-19 crisis together.
We have no idea when we will have "flattened the curve," we have no idea how long "stay at home" or "shelter in place" restrictions will last, we have no idea how long we'll be able to find, and buy, fresh groceries, we have no idea when "work" as we know it will return to normal, we have no idea …
Basically, we have no idea about anything.
I don't know if there is anything more fear-inducing than sheer and utter uncertainty.
What I do know is this:
No matter how scary things are, there is almost always something we can do to be of service.
***
One of the ways in which I'm trying to contribute is by sharing my expertise – as well as that of my friends and colleagues – through no-cost, no-catch, professional development trainings in my Social PR Posse Facebook group.
Last week, for example, Dinean Robinson of Multiplying Good and I did a live Q&A, moderated by Alex Brown, on crisis communications for nonprofits.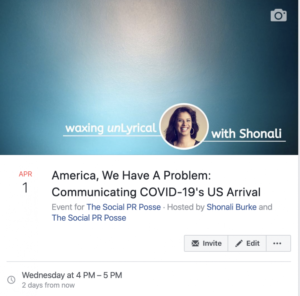 This week (tomorrow, as a matter of fact), I'll be doing a live Q&A with Heather Thomas of the Snohomish Health District in Everett, Wash. (just outside Seattle), who handled crisis communications for the country's first-ever COVID-19 patient.
(I can't even imagine what that was like! I can't wait to find out!)
And more such events to come.
Heather and I will go live (Alex will moderate again) on Wednesday, April 1 (no April Fools here!) at 4 pm ET in the Social PR Posse Facebook group.
If you're already a part of my community and belong to the group, you can click here to join if you'd like to/can? << direct link to event
If not, and you'd like to join (or you have PR/MarComm colleagues you think would be interested), please sign up here (opting into my list is the best way for me to stay GDPR-compliant as well as avoid spammers).
***
I know I haven't been the most consistent at blogging. Life and all that.
So I truly appreciate the generosity with which you continue to welcome me into your life.
TBH, I doubt you'll suddenly start hearing from me every day, or every other day (and that would probably drive you crazy, LOL!).
But I promise to try to be more consistent.
That's all any of us can do, right?
And that's not just for the birds 😊🦜.