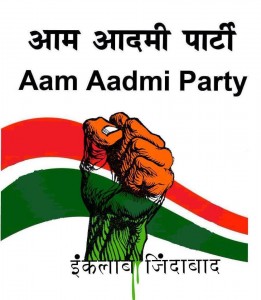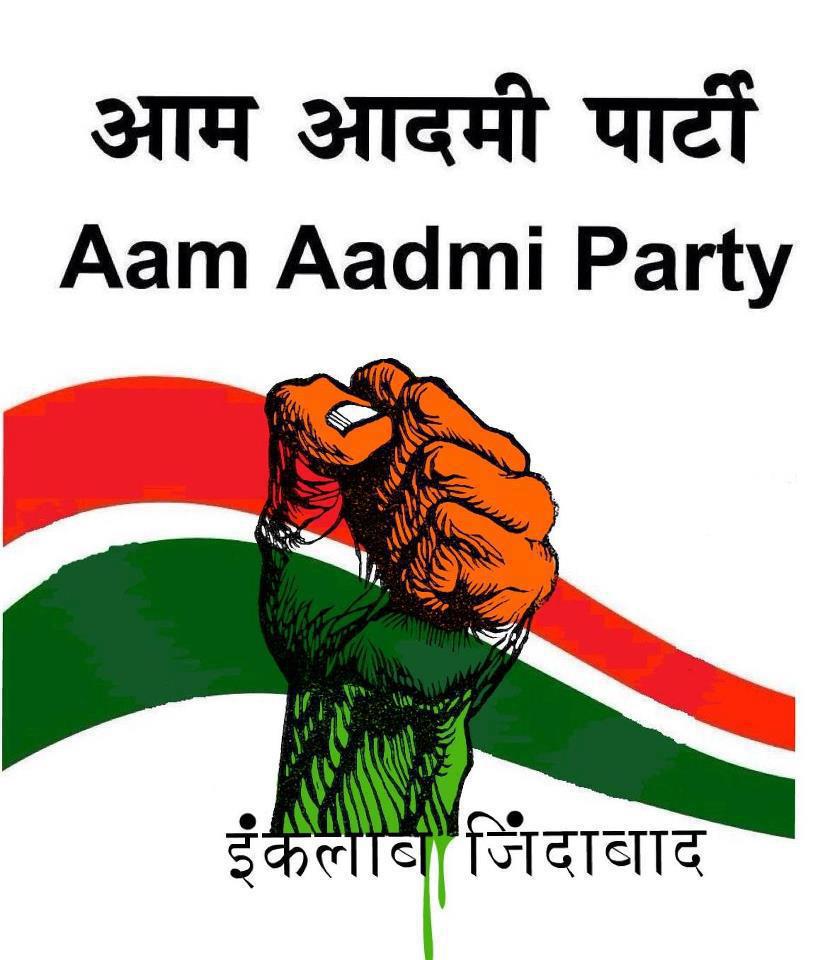 This year, Election Day in India (for the legislative assembly elections in which the Indian electorate choose the members of the Vidhan Sabha (or Legislative/State Assembly) fell on a weekday (December 4th). The first thought I had – and I'm pretty sure I wasn't alone – was, "Thank goodness, we get a day off from work!" Isn't it? After all, what's better than a mid-week day off?!
But a day off work – even if it's for something as important as exercising our franchise – can tend to blur our focus. Our priority becomes how we'll spend that day off with family and friends, rather than the importance of the elections and choosing the right candidate and the right party to govern our country.
Image: aamaadmiparty.org  via Google, CC 4.0
Most of us get laid back rather than step out of our homes to vote.
This year, social media played a very important role in encouraging the citizens of India to vote. A few months ago, I wrote about how Indian Politicians were using Google+ Hangouts to reach out to Indian youth and a wider audience to connect with them.
The efforts Indian politicians have been making to reach their audience through social media was clearly reflected in this season's election results. For years, India has seen only two parties realistically compete: the BJP and the Congress Party. This time around, a third party was formed and became a viable competitor: the Aam Aadmi Party (AAP). [Ed: "aam aadmi" translates to "common man."]
While the BJP and Congress have been in the political system for an eternity (at least, it feels like it!), the new party, AAP, and its founder Arvind Kejriwal brought a breath of fresh air to the whole political scene in the country. Not unlike President Obama in the U.S., Kejriwal did what so many politicians dream of doing: he enthused the youth of the country to vote.
I have never before felt so strongly about the elections and my personal ability to effect change in our country.
And while social media has certainly changed the face of political campaigns, it has not replaced other traditional forms of communication. That said, the issue of funding often poses problems for smaller campaigns or new candidates. After all, it takes money – a significant amount – to produce and run expensive television or radio ads, which are still key in reaching audiences.
But that's when a smart social media campaign comes into play.
AAP did not restrict itself to Facebook and Twitter, but used Google+ and Linkedln in a big way; in fact,  the latter proved to be a major source of donations. Mr. Kejriwal didn't just use Google+ Hangouts to expound his philosophy; he actually used them to raise funds. Using G+, AAP reached people not only here in India, but the Indian diaspora in the U.S., Canada, and Hong Kong, answering their questions, gaining their support, and raising clean (i.e. not illicit) funds.
AAP's use of social media was not just integrated, it was fascinating. It urged NRIs (Non-Resident Indians, a critical audience and source of investments in India) to leave video messages of support for the party on YouTube. Quora too had a lot of threads where people spoke about AAP, and the party ensured that these threads were kept updated. The supporters of the party were very active on Twitter, making sure to provide answers if anyone had any questions or needed clarification.
Interestingly, when the party wanted people to stop donating money for the elections, they announced it on Twitter.
According to an article in Business Standard, "… the campaign raised approximately Rs. 20 crore [Ed: ~$4.6M] through marketing, and most of that money was raised through online marketing. Mind you, it wasn't email marketing in the form of a daily blast to millions of faceless Indians, it was digital marketing, tested and clearly targeted."
That's a lot of money!
Engagement and amplification
While politicians believe that in-person support lends credibility to their campaigns, the same holds true for social media campaigns. It's about more than having a lot of followers. It's about getting them to amplify the campaign's message as well.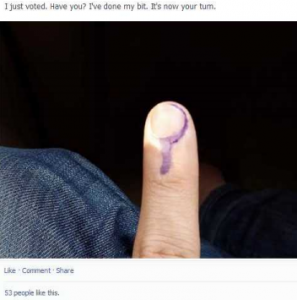 On Election Day, I saw my Facebook timeline swell with pictures of people in my network with ink on their finger (the sign of participating in the elections). A few of them updated their status to inspire people to go out and vote. This surely showed the sense of pride that each felt after voting.

The AAP is clearly the first political beneficiary of the social media revolution in India. Today (as of December 10th) we have a hung assembly (in a two-party parliamentary system of government, a hung parliament occurs when neither major political party – or bloc of allied parties – has an absolute majority of seats in the parliament, i.e. legislature).
There is no clear winner, but AAP has managed to emerge as a strong and respected opposition party to the BJP.
Building such credibility among Indians in such a short span of time and beating Congress is praise worthy.
Interestingly, Rahul Gandhi (VP of the Congress party) has zero social media presence. He is neither on Twitter nor Facebook. In this plugged-in era of engaging in social conversations, sharing opinions and stories online, and building connections virtually, a politician's strong showing in social media does tend to have a positive impact on votes. This is exactly what the election results showed, with the AAP blowing the Congress party out of the political race!
More and more young Indians are getting on the social media bandwagon, and this will increase with time. According to a recent report by the Internet and Mobile Association of India (IAMAI) and IMRB International, the number of Internet users in India has reached 205 million in October this year. And by June 2014, India will have 243 million internet users, at which point of time, it is expected to overtake the U.S. as the second-largest Internet base in the world.
These data indicate that even for "the rest of us," social media, online sites, and live streaming are now a new way of life. While it may have a long way to go, Indian politics has come a long way, and social media is a large part of that. I can't wait to see what happens next.
What do you think? Have you seen social media impact government and politics where you live? If you voted in the Indian election, did social media play a part in getting your vote out? Do share, I'd love to know!