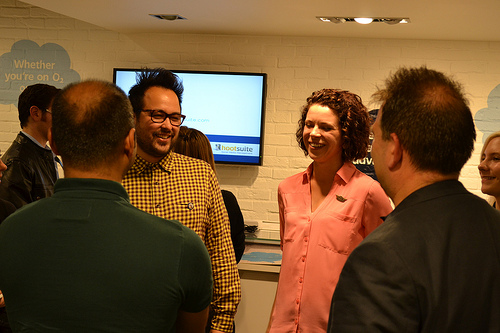 Good morning! So… how have you been surviving the cold? Me, I got bronchitis (I know, I say that as if it's something to be proud of). I hope you didn't, and if you're reading this from a beach somewhere, don't even talk to me.
You know that's a joke, right?
Image: Link Humans via Flickr, CC 2.0
Social media is all around us, but what does "being social" actually mean? And who's being social? Let's see if these seven posts can shed any light on the subject.
1. Bringing the Social Back to Social Media

Why: In this oldie but goodie from Heather Whaling, she reminds us not to get so caught up in social media that we forget to build meaningful relationships and actually "be social."
2. Social Employees Drive Social Business
Why: In this thoughtful and thought-provoking post, Daniel Newman examines what makes for a truly social business… as opposed to a business "doing" social media.
3. The New Demographics of Social Media
Why: Who's on the Interwebz? Shelly Kramer takes us through key findings from the Pew Research Center's Internet & American Life Project (one of my go-to sources for all things social-related, btw).
4. How Social Media Impacted the 2014 Indian Elections
Why: In this great guest post for WUL, Ancita Satija examines how India's AAP (Aam Aadmi Party) used social media to impact the 2014 Indian elections.
5. Generation S – Engaging the Unsocial C-Suite and Beyond #IBMConnect
Why: How do you engage the unsocial… and why? Pam Moore explores other ways to reach your stakeholders.
6. Is The Corporate Website Dead?
Why: With corporate website visits declining, Michael Brenner reviews how social exchanges can build relationships and trust in your business.
7. Don't Be the Jerk at the Party! … A Lesson in Social Media Etiquette
Why: In this amusing post, Mike Kappel reminds us why social media and a hard sell don't go together.
How do you promote being social within your business? What approach do you use to encourage others to socialize with you and your brand? Please share your thoughts in the comments below.