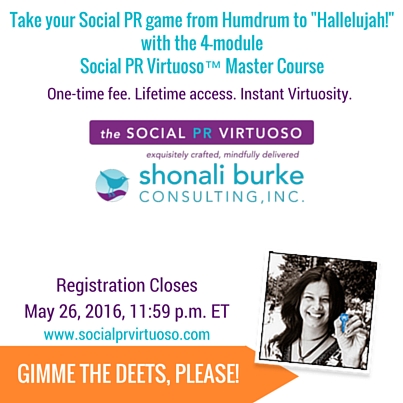 Over the years, I've offered a plethora of  tips here on the blawg to help you build your Social PR strategy.
And the reason I'm such a diehard Social PR fan is that, by putting such a strategy in place, you're building a community of supporters to back your cause … which means you don't have to rely solely on media relations to get the word out.
Enter today's roundup.
1. How Do You Say "Good Morning"?
Why: [It's] "a refreshing way to start my morning; by connecting with people I may not actually have met, but who are an important part of my extended circle online. And I get to know them just a little bit more by a simple interchange, after which we all go off to start our days (or, in some cases, nights)."
2. Baby, Get (Hump)Back – Public Relations Lessons From a Whale
Why: "Everything – everything – comes down to how you tell your organization's (or your client's) story. That's at the heart of what we in public relations do."
Why: "The first thing that anyone – including the many "gurus" out there – will tell you about social media is that it's about listening, connecting and sharing. Everything else comes later."
4. 15 Reasons Your PR Pitches Suck
Why: "The truth is that we've all made our mistakes. But it worries me that some of these things – which include basic commonsense – are still happening to the degree they do. It's one of the problems with PR."
5. The Anatomy of the Perfect Pitch
Why: "To me, a perfect pitch would be one that secured every single story it was aiming for. And as far as I know, no one holds that record. You can, however, write a very good pitch."
6. Through the PR Looking Glass
Why: "What I've come to realize is, while there is absolutely nothing wrong with being a tactician – and, in fact, I think it's essential to understand and excel at the tactics of our business – if we want to get anywhere, we need to be able to look at the bigger picture."
7. The Ultimate Guide to Social PR Strategy: A Blueprint for Success
Why: "The thing is, there's so-so Social PR, there's this-is-so-NOT 'Social' PR – which is most of what's out there – and then there's Superhero-level, stratospheric Social PR. And for PR to really work in this day and age, it's really only the last one that counts."
Want to turbo charge your Social PR strategy? Become a Social PR Virtuoso by signing up for my Master Course today. But you'll have to hurry. Registration closes at 11:59 pm ET on May 26.