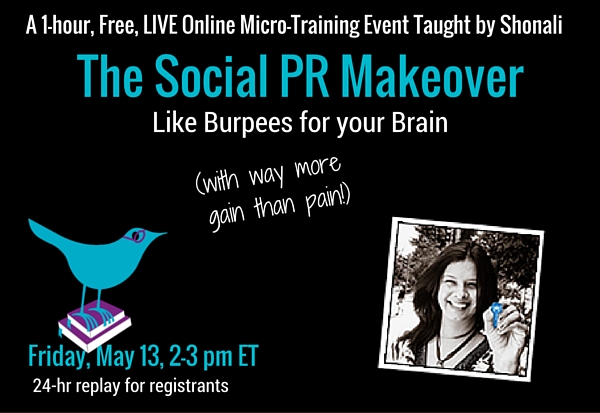 What does it take to be a "Social PR Virtuoso"?
An elite group of Social PR pros found out last year, when I first launched my premiere online course. You can get a taste of that if you sign up for my new, FREE online training on May 13: The Social PR Makeover.
And since smart teachers continue to learn from their students, I thought this week I'd showcase some of the Virtuosos… because they really get what "Social PR" is all about.
1. Customer Experience Driven By Social Media Intelligence
Why: "Social media can be a blessing for businesses that use it well and a curse for those that don't," writes Ancita Satija as she explains how businesses should use social analytics to "make smarter and better decisions."
2. Why Are So Many Likable Ads Ineffective? 
Why: "Likability is neither predictive of creative effectiveness nor highly correlated against other key metrics," says Angie Jeffery as she explores why producing campaigns based on likability alone leads to "underperforming ads and millions of dollars in wasted media spend."
3. Encouraging Executives to Pay Attention to Media They Want Coverage From
Why: "Many high-level executives are focused on what's going on in their company, so much so that they aren't reading the relevant publications or influential blogs that they want coverage in," writes Nicole Rodrigues for Corina Manea's NutsPR (Corina is a true Social PR Virtuoso).
Nicole introduces us to "questions you should ask your clients and notes that can help everyone get on the same page when it comes to expectations about media targets for their business."
4. 4 PR lessons from the world's top-paid artists 
Why: "Think about your niche market, whether it's natural food, entertainment or tech, and how you can build your own personal brand within your industry," says Mercy Chikowore in this still relevant post.
5. The Ultimate Guide to Social PR Strategy: A Blueprint for Success 
Why: "The thing is, there's so-so Social PR, there's this-is-so-NOT "˜Social' PR – which is most of what's out there – and then there's Superhero-level, stratospheric Social PR. And for PR to really work in this day and age, it's really only the last one that counts," I wrote in this monster post chock full of Social PR know-how.
Why: "Have a plan to engage, in a meaningful way, with those that are also using the hashtag. The last thing you want is to have a one-sided conversation," says Rachel Brockway as she goes over some best practices for hashtag use.
7. It's often not WHAT you pitch
Why: "WHAT you pitch is secondary to WHO you pitch," writes Michael Smart as he explores why "Message-to-Influencer Match" is vital.
Will you join the Social PR Makeover on May 13th from 2-3 pm ET? Sign up now, it's going to be a ton of fun!