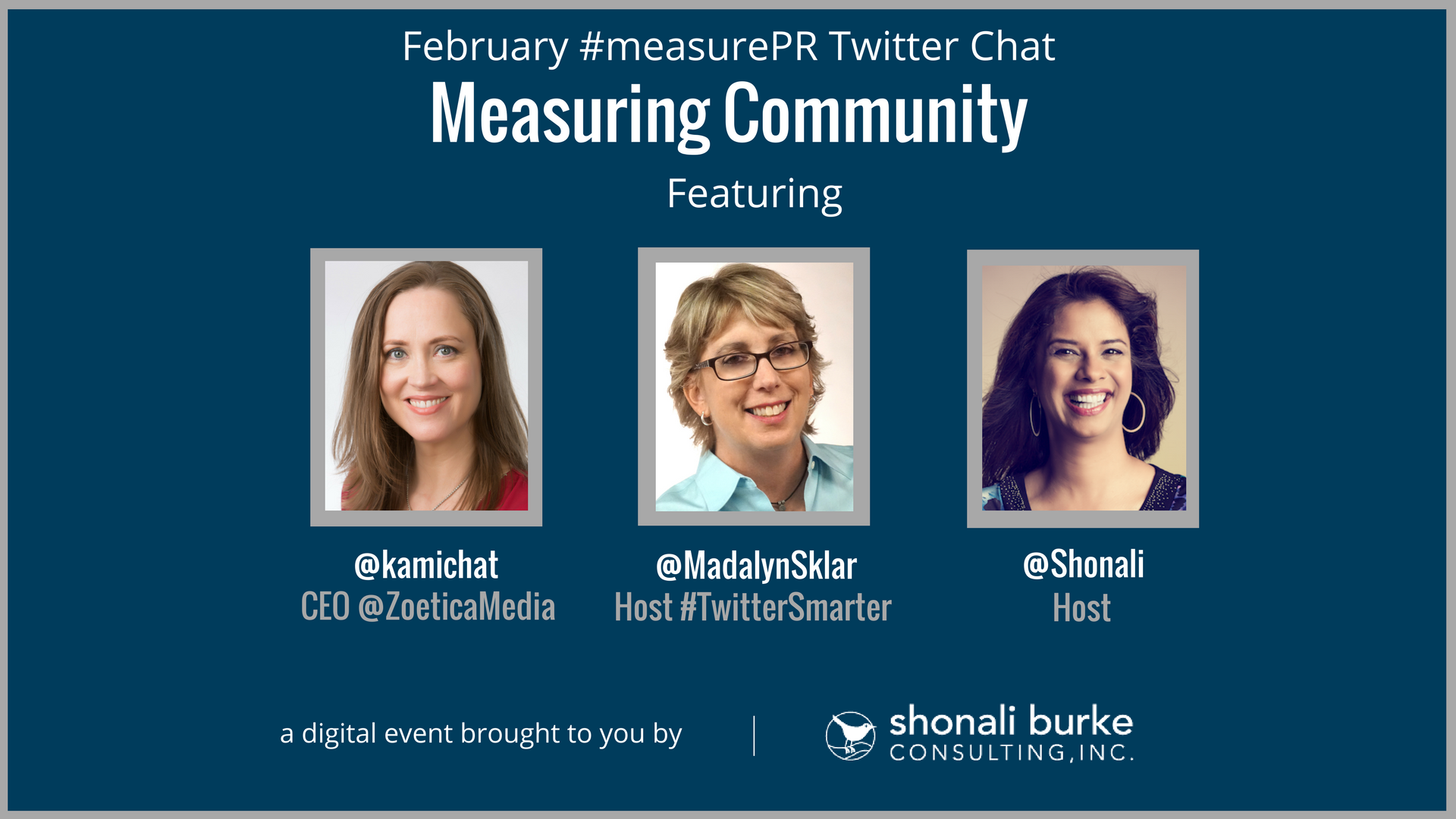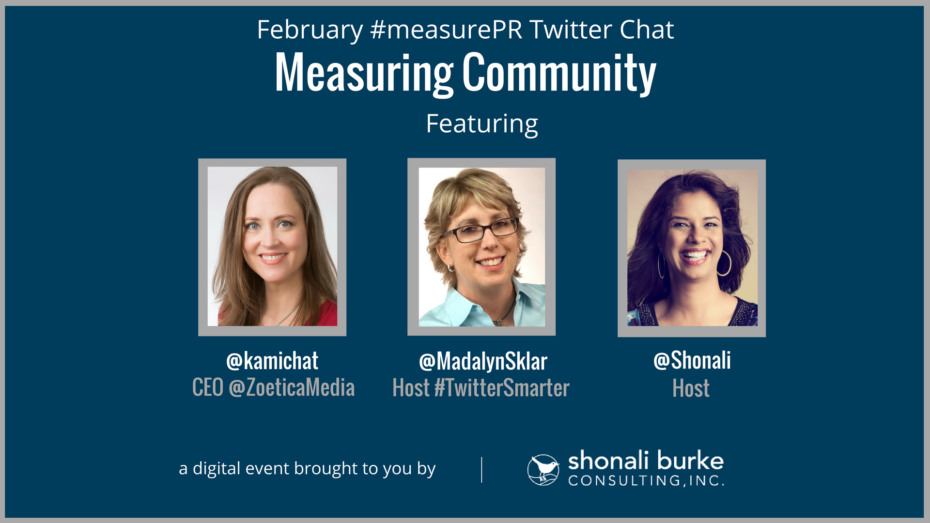 Love was in the air during the February #measurePR chat. We took a look at best practices for building and measuring community with the co-founders of the podcast, "Communities that Convert," Madalyn Sklar and Kami Watson Huyse.
Here's some of what we talked about:
On how the community space has changed over the years:
A2: Platforms, tactics and strategies have all changed, but what hasn't changed is people's desire to connect and build community #measurepr
A2: There was a time where community meant sitting around a campfire singing songs and making s'mores. Then came the internet and changed everything. In a good way. 😀 Community has evolved but it's still about people. Bringing people together in different ways. #measurepr
On the differences between online and offline community building:
A3: I find it's easy to build online communities because it's easy to get people to join in and participate. There are lots of introverts out there who would never attend an offline event. Online is safe for them. #measurepr
A3: In some respects, it is the same. People want to be seen and heard. In others, it is different. Namely, you don't have the body language and you have to work harder to create connection online. #measurepr
Danielle Heiny chimed in:
A3: I see building communities as building relationships & those relationships can take longer time online, *but* once they're made they just continue to grow & the community soars! #measurepr
On best practices to build online communities:
A3: Online Community Do's: -be you -listen -always tag people you are talking about -show your personality I encourage people to reply to tweets with a video. I call it #VideoReplyDay. This is a great way for people in your community to learn more about you. #measurepr
A3: Must Do's in Online Community – Tag people but only if you are talking to them directly – Be like @MadalynSklar and send personalized video #VideoReplyDay – Take time to get to know the pain points of people in your community – Solve problems #measurepr
As you can see there was a lot of information being exchanged, so the hour flew by. If you missed anything or want to revisit anything we discussed, check out the #measurePR transcript for February 8.
March #measurePR Announcement
The next #MeasurePR Twitter chat will be held on Thursday, March 8, 2018 at 12 pm ET.
In honor of International Women's Day, we will hear from some of the smartest women in PR and PR tech. We'll discuss how technology has revolutionized PR and how it lends itself to Social PR.
Our guests include: Dr. Ai Addyson-Zhang, a college professor, consultant, blogger, and the host of a weekly Facebook live show with a focus on social media, technology, education, and innovation; Aly Sandhaus Saxe, founder & CEO of Iris PR Software, a PR management & measurement software; Heidi Sullivan, President of HKSully Consulting and a specialist in PR technology, content marketing and the evolving media landscape; and Serena Ehrlich, Business Wire's Director of Social and Evolving Media.
So make sure to mark your calendars for your monthly dose of smart measurement talk and use the hashtag #measurePR to join.
You can also RSVP to our Facebook event for the latest updates and reminders. We hope to "see" you there!