One of the most important things you can do in social media is to say, "Good morning."
Image: Mahesh Khanna, Creative Commons
It's amazing who will respond, and what they'll respond with.
Chuck Hester, for example, puts out a daily CHUCKle. Like this one from a few days ago: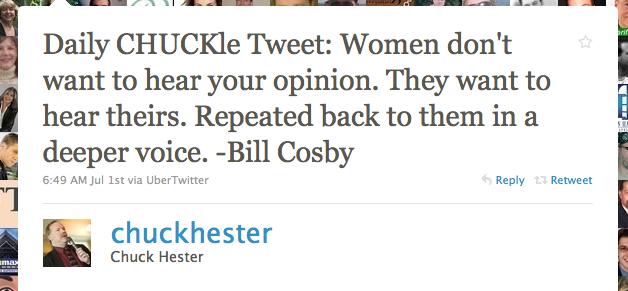 Heh heh.
Today I saw Mike Schaffer saying, "Good morning, good morning to you," which immediately reminded me of the song from "Singing in the Rain" (one of my all-time favorites).
Sorry about the closed captioning; it was the only embeddable version of the song I could find on YouTube. On the flip side, you'll be able to sing along.
So I asked my tweeps which "good morning" songs they like the best, and got a range of answers. Here are just a few: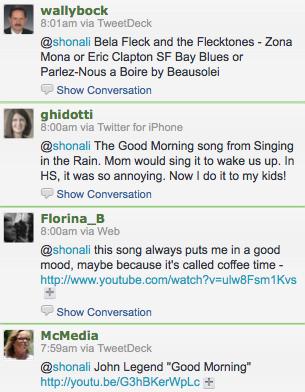 First, what a great way to expand my play list.
But more importantly, I find it a refreshing way to start my morning; by connecting with people I may not actually have met, but who are an important part of my extended circle online. And I get to know them just a little bit more by a simple interchange, after which we all go off to start our days (or, in some cases, nights).
These are people
Whom I might actually (I hope!) run into IRL one day… like I did Mary Barber.
Who might become business partners or clients … like Shashi Bellamkonda.
Who might become – and this one's my favorite – good friends … like Mary, Shashi, Jill Foster and so many others.
And all of that from a simple "good morning" on Twitter.
So – how do you say "good morning"?