Estimated Reading Time: 7 minutes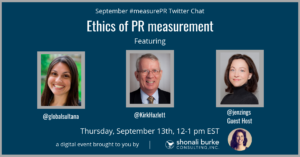 Guest Post by Jen Zingsheim Phillips
The September #measurePR Twitter chat featured guests Sultana Ali and Kirk Hazlett.
Sultana F. Ali, APR, has a 15+ year career in communications and marketing, and is adjunct faculty in Georgetown University's Corporate Communication and Public Relations program. She previously served as President of PRSA-NCC, the largest chapter of PR professionals in the U.S.
Kirk Hazlett, APR, Fellow PRSA, is Adjunct Professor in Communication at the University of Tampa. He is also the Ethics Officer of PRSA Tampa Bay, and co-chairs the PRSA Tampa Bay PRSSA and New Professionals Committee and is PRSSA Liaison, PRSA College of Fellows Mentoring Committee.
The guest moderator was Jen Zingsheim Phillips, who is a freelance writer and communications strategist with 4L Strategies.
As September is Ethics Month at PRSA, the discussion revolved around the topic of ethics in PR Measurement. After kicking off the discussion with introductions and a reminder of the #MeasurePR chat guidelines, here's what they and the #MeasurePR community discussed.