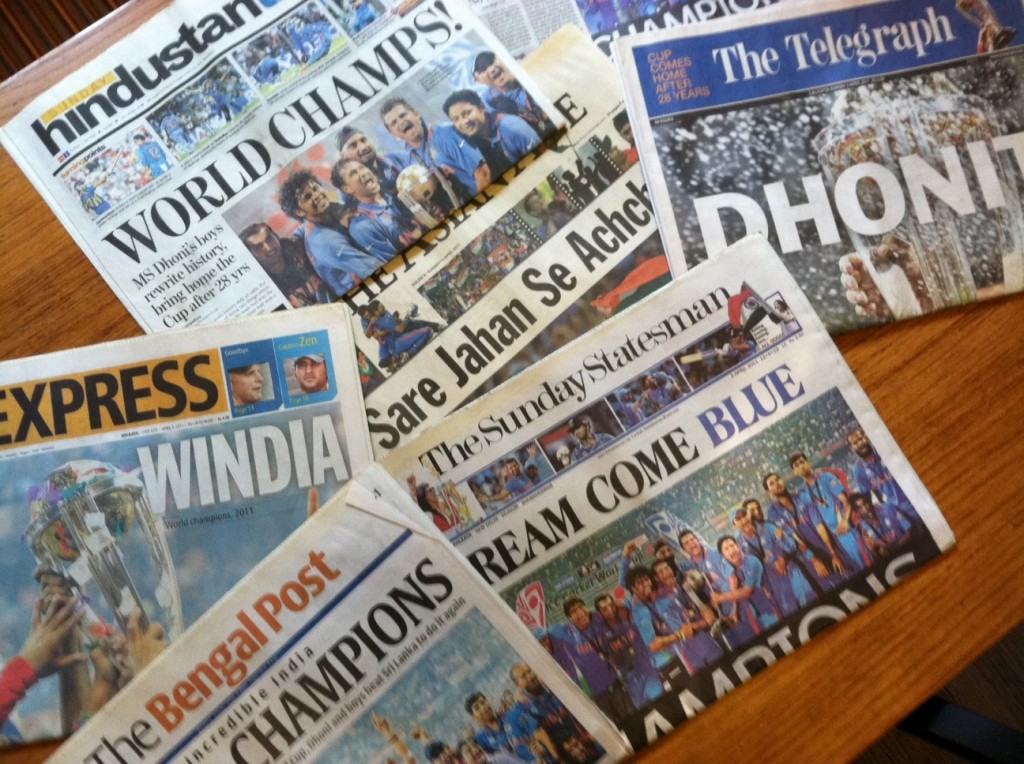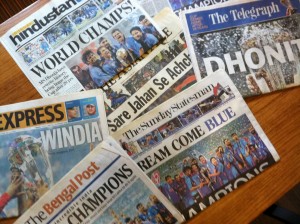 I had a delightful surprise waiting for me this morning. When my husband went out a short while ago to get the newspaper (yes, we still get one newspaper delivered), he also brought in a box that had apparently been waiting for me on our doorstep since last evening.
I opened it to find the April 3 edition of several Indian newspapers, exulting and reveling in India's victory in the 2011 World Cup.
The newspapers themselves took rather a circuitous route to get to me.
I'd asked my father to pick up a couple of newspapers for me, for posterity. He didn't just find a couple of newspapers. He found every single English language newspaper he could, and held on to them patiently while I mulled over the best way to get them to me (FedEx would have been exorbitant and the Indian postal system is, shall we say, not too reliable, especially when it comes to international mail).
As it turned out, my parents took a brief vacation to Singapore a few weeks ago, coinciding with a vacation my brother (who currently lives in the UK) took. My devious, elder sister plan was to get my brother to haul them back to the UK and mail them to me from there (cheaper than mailing them from India). My brother, however, is a smart cookie, and refused to do so, deciding instead to mail them to me from Singapore (whose mail system is much more reliable).
While they were at the post office, he happened to meet a friend of his who now lives in California, and who very kindly offered to bring the newspapers back to the States, and mail them to me from there.
So from India, to Singapore, to California, to, finally, DC … I am now the proud owner of seven newspapers that I will delve into, most likely this weekend, to relive the ecstasy that millions of Indians and people of Indian origin experienced three months ago when, after 28 years, India finally brought home the jewel in cricket's crown.
And that, to me, is why newspapers will never die. They may change; in fact, they have to change to survive in the new media landscape.
But there is nothing like the feeling you get when you look at the headline and reporting in a newspaper, particularly after a momentous event that has brought together people from all around the globe.
That's the joy a newspaper brings.