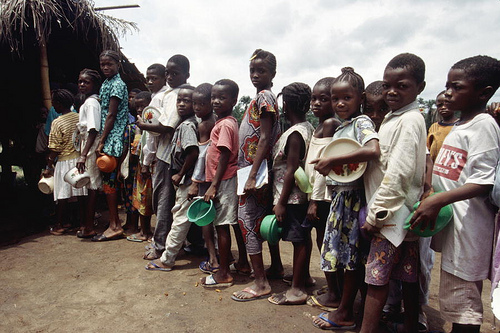 For those of you who are regular WUL readers, you'll know that I don't write too often about clients. But after a lot of thought, and validation from Gini Dietrich, I decided I would. Because it's important.
So before we go any further, please know that this post is about a client campaign I'm working on.
I'm writing about it because first, as I said earlier, it's an important issue, and if I can't write about what I like on my own blog, WTF can I write about? Second, I think it's interesting from a "social media campaign in progress" point of view; think of it as your little SM campaign petri dish. So here I go.
Image of refugee children in Liberia, UN Photo/John Isaac via Flickr, CC 2.0
A few months ago, I started working with USA for UNHCR.
You may not have known of them thus far, but they are a DC-based 501(c)(3) that works to raise awareness and funds for Geneva-based UNHCR. Which is, of course, the UN Refugee Agency. And as you have probably figured out by now, they work to alleviate the plight of refugees worldwide.
Now, I've seen refugees as far back as I can remember. Growing up in Calcutta Kolkata, many of the homeless people I'd see every day were refugees from Bangladesh. My grandaunt, who founded a primary school in New Delhi (that since grew tremendously) would talk often of her "Afghan children" … meaning the children of Afghan refugees. Refugees are so common in that part of the world, they become a fact of life. And like many facts of life, they become de-humanized.
Once I started working with USA for UNHCR, I learned more and more about refugee statistics. More than 43 million refugees worldwide. Women and girls represent 47% of all refugees and asylum seekers (47%!!). The total number of stateless people worldwide is estimated to be around 12 million. And the numbers go on and on.
The thing is, there are people behind these numbers.
People who have been forced out of their homes for no fault of their own.

People who may never have a home again.

People who have had to give up their children in order to save them.
I don't have kids, but I don't think you need to to comprehend what that horror must be like.

So I've been working with USA for UNHCR on the digital aspects of its Blue Key campaign. It's very simple:
1. The Blue Key campaign symbolizes the key to the home that refugees may never ever hold again;
2. It's a $5 symbolic Blue Key pin or pendant that is really very cute – and by getting your own, you're showing support for the cause of refugees worldwide, as well as for the 6,000+ UNHCR staffers working globally to bring them some relief; and
3. Our goal for this phase of the campaign is to get 6,000 keys out to Americans (they can only ship within the US) by June 20, which is World Refugee Day.
From an SM campaign point of view, I think we've been doing some interesting things (but of course, I'm working on the campaign, so take that with a fistful of salt if you need to). We have:
Refined the "online home" for the Blue Key campaign as much as possible, so that messaging is in sync;
Reached out to cause-passionate bloggers who are active in social spaces to become Blue Key Champions (you can become one too, just let me know, the main "ask" is for you to publish a post on the campaign between now and June 20);
Using the #bluekey hashtag on Twitter to amplify the conversation and drive awareness;
Created tracking URLs for the primary outreach mechanisms, i.e. blog(ger)s, Facebook, Twitter & email newsletters (which USA for UNHCR is sending out);
Customized the "thank you" email someone gets when they sign up for a Blue Key (or more than one), so that they can choose whether or not to "like" USA for UNHCR on Facebook, follow on Twitter, donate a tweet a day, or become a Champion.
And we're tracking the keys given out on a weekly basis, as well as watching the trends in Google Analytics (and Twitter trends via RowFeeder, I love that thing!) so that we can:
a) correlate outputs to outcomes,
b) know how much further we have to go to reach our goal, and
c) learn from this phase of the campaign before we move onto the next.
Thus far, the response has been terrific. You have only to look at who has signed on so far as a Champion to see how many vibrant social media personalities and voices have signed on to promote the campaign. In fact, I believe Gini Dietrich has made it a personal crusade to ensure we reach our goal.
More than that, though, it's been eye-opening to see how different people relate to the campaign. Because unlike so many other causes, pretty much anyone can relate to not having a home.
For example, read Kellye Crane's post on how she was temporarily homeless during Hurricane Katrina. Or Matt LaCasse's post on why it's important to remember there are people behind the numbers. Or Kami Watson Huyse's post on why, as the mother of a 7-year-old, she relates to the story of one of the Lost Boys of Sudan. Or Tinu Abayomi-Paul's post on how she has seen first-hand how far $5 goes in the developing world.
About halfway into the campaign, I have mixed feelings:
From a reaction/adoption point of view, it's been terrific… almost everyone we reached out to agreed to help.
From a hardcore "get the key" point of view, we're about 33% of the way to our stated measurable objective of 6,000 keys by June 20. Key purchases have certainly picked up since the social elements went into play, but we need a lot more if we're going to reach that goal.
If we don't reach it, does that mean we fail? If you go only by those numbers, yes. But if you go by the increased awareness of USA for UNHCR, the campaign, advocates, etc. – no.
But I'd still like to get them to 6k keys if we can. And that's where you come in.
I've written often about influence (and shoot my mouth off about it as well). I firmly believe that influence is when you can change someone's thoughts, actions, behavior. So …
If you are persuaded by the cause, any of the Blue Key Champions, or me, in any way, shape or form, please go and get your key today.

If we've ever done anything nice for you, please go and get your key today.

If you've ever asked me for a job lead, or to pick my brain, or pitched this blog, please go and get a key today.
Tell everyone you know about the campaign and encourage them to get their key. Share it on Twitter, tag 'em on Facebook… because if we all band together, our collective networks are much stronger than any one person's network.
Please. Go get your Blue Key (or keys) today. And maybe you have other ideas on how we can move the needle for USA for UNHCR and refugees … and if so, I'm all ears. In fact, you'll hear me talk more about the campaign on the webinar I'm doing tomorrow for Marketwire/HubSpot … and until June 20, at least, my avatars everywhere will be blue.
For the Blue Key. Because it's that important.
Thank you.