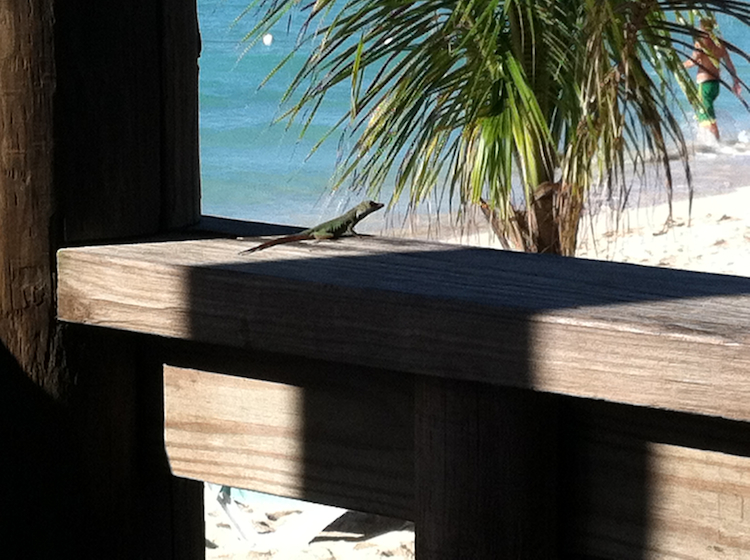 Don't worry, I'm not going to launch into a diatribe or give you something really heavy to read. I just wanted to update you on what has been, and will be, going on on the WUL front (as well as my own).
Also, there is no particular reason for the gecko photo, in case you were wondering… I just felt like using it!
Here goes.
I'm going on vacation! Yes, this entrepreneur actually dares to take a vacation. But this is a really special vacation; my baby brother is getting married, and I wouldn't miss it for the world.
So after a couple of days, I will be away – out of the country, as a matter of fact! – for the next couple of weeks, and hope that I will have terrific tales to tell of the Czech Republic and London when I return.
Why CR? That's where he's getting married. In a castle. I know!
#1: What happens to WUL for the next two weeks?
Well, for the next two weeks, while we'll keep to our current schedule (M, W, Fr), you'll see some round-ups and older posts that we thought would be good to run again. WUL will return to its normally scheduled programming on July 29, and till then, you'll still have good content to keep you satisfied.
#2: New appearance announcement
Second, and I am very remiss not to have officially told you this before, I just started a regularly-scheduled appearance on Career Talk with Jess Robert, which airs on NewsTalk AM 1270, which airs on WYXC out of Cartersville, Ga. It's a really neat radio show – "real" radio! – and it airs every Saturday. I'm on the first Saturday of each month, from 11 – 11:45 a.m., to talk about social media as it pertains to your career and business. We also take calls, so it's a lot of fun.
If and when you're free, please join us, and of course, if you have questions you'd like me to answer, you can always post them to the show's official Facebook Page. As long as you have an Internet connection, you can listen live and join from anywhere, so please do! My next appearance will be Saturday, August 2.
 #3: #measurePR transcript for July
I am really sorry I haven't as yet gotten up a recap of the July #measurePR chat. Since we switched to a new, monthly format, and also as we cut back a bit on our publishing schedule, and also as I have been a little bit crazed with a bunch of stuff, I still haven't gotten around to writing a recap. It was a really great chat, though, with some new people joining, so here's the transcript for #measurePR on July 2. Please download and read it at your leisure, you will enjoy it.
Also, the next chat is coming up on Tuesday, August 6. The inimitable Jay Baer will join us (have you read my review of his new book, Youtility? If not, you should, since you could win a copy), and I hope you will too. 12-1 p.m. ET, and of course, just use the hashtag #measurePR.
#4: Who's on a Washington Business Journal list?
Yes! I am! This happened this past Friday, when I found out I'd been included (at #3) on a Washington Business Journal list of "10 CEOs to follow on Twitter." Being very good at doing PR for clients, and abysmal at doing it for myself (cobbler's children, etc.), I had no idea this was in the works. So when people started tweeting about it, I was completely taken aback, and a little overwhelmed as well. In a good way.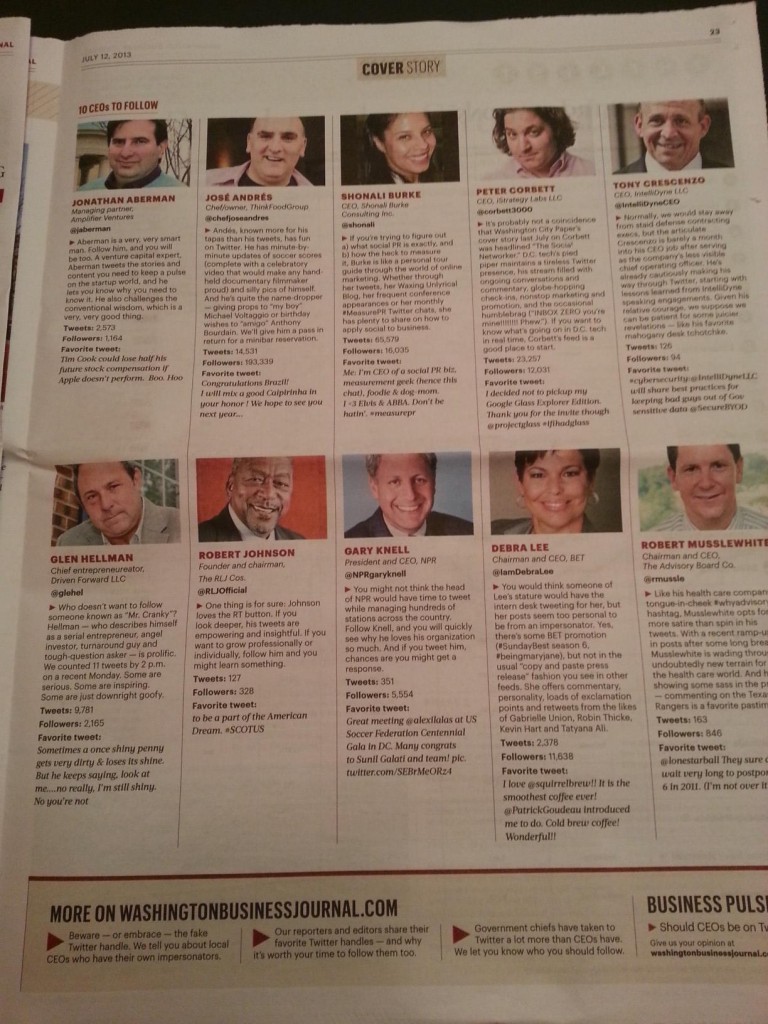 Thanks to my friend Shashi Bellamkonda for that photograph… it looks even better in print than online! Now, I've always said that lists are only as important as you make them out to be. This is one that does make a difference to me, so I was very happy, and I wanted to share it, and my happiness with you.
#5: Thank you
It seems every year flies by quicker and quicker. This year really has been flying by, though. It has been some things I thought it would be, and many that I did not. WUL has been going through a lot of changes, almost like an adolescent, even though it's a ways away from that. And you have stuck with us through it all.
So last but absolutely not the least, I want to say thank you. Very, very much. You have no idea how much you mean to the team and I. Thank you.
With that, I will say Buona Sera for tonight. See you on the Interwebz tomorrow, yes?