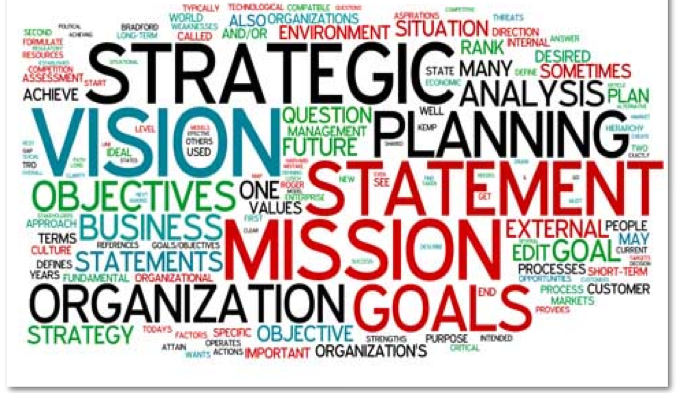 Guest Post by Paula Newbaker
Aren't word clouds great? They highlight what is important within a mishmash of related ideas. What stands out here? Vision, Statement, Mission, Goals, Organization, Strategic, Planning, Analysis.
When planning and strategizing for your entire brand or a specific campaign, all the above come into play.
Organization is paramount in moving from planning to developing, and then executing, the strategy.
As A.A. Milne, author of Winnie the Pooh, said:
"One of the advantages of being disorganized is that one is always having surprising discoveries."
And from Pooh himself:
"I'm not lost for I know where I am. But however, where I am may be lost."
Also from Pooh:
"Always watch where you are going. Otherwise, you may step on a piece of the forest that was left out by mistake."
And then Milne FINALLY said …
"Planning is what you do before you do something, so that when you do it, it is not all mixed up." – A. A. Milne
So they both got it!
How do you get it and finally get there? You need to plan, then write your strategy based on these findings.
First, set your goals and objectives. Without them, you will certainly be lost, and may find many Pooh – predicted surprises along the way. How do you go about finding and defining them?
A good starting point is to develop a brief. This will help you and the organization to start to narrow your focus and wrangle all the ideas floating around.
This document answers key questions such as: What is the background of the initiative? Why is it being done? What is the competitive environment or business opportunity? What do you want to achieve? What are very specific goals and how can they be measured? Are there smaller goals? Who are the target audiences? In what ways do you want the behavior of your audiences to change – their thinking, their behavior, their buying pattern? What are the primary messages? … What should they know in order to achieve the behavior or actions you want? What are the secondary messages? … What are some smaller messages which could help to change their behavior? What concrete evidence supports these messages? Who are key players … competitors, partners, government, etc.? How can they help or hinder you get to your goal? What story opportunities exist for both traditional and social media?
Remember … this brief is done with people. You are not brainstorming alone in a silo. Internal stakeholders can either fill out a document, or, you can sit down face-to-face and develop the material together.
Another approach is to systematically probe and brainstorm around the primary opportunity or obstacle and potential routes to a solution. This is a group exercise for an internal team working for a client. List about five categories where threats or barriers could exist. This could be … the competition, a trend, a technological breakthrough, a consumer mindset, or internal issues. After exhausting all possible barriers in each category, give each person a marker and allow them to place five checkmarks next to the ideas he or she finds to be most critical to success. (One checkmark per idea.) Tally the votes. Circle the barriers that received the most votes. For example, you may decide to circle all the barriers that received four or more votes.
Rewrite the list of barriers that you circled on a separate sheet of paper and number them. Note: It is not necessary to keep the barriers classified by category. Set up a grid and plot the numbered barriers on it. The barrier which is plotted the furthest to the top right is the most important and most addressable barrier to achieving the business goal.
For example, this fictitious small business focuses on exit strategies for other small businesses which are selling or passing the business on to future generations.
After defining goals, competition, opportunities/problems, audiences, trends and technologies, the business owner saw six top issues of addressability (how easily can communications address the issue at hand) and importance (to growing the business). These were: problems in perception by how the business owner (usually the father) sees the transition to future generations (6); interfamily fighting, and fighting extending sometime to outside stakeholders (1); the fact that competition and collaborators could be one in the same (2); the need to use outside technologies and digital online courses (5); the use of a membership in a high-level international networking group to leverage opportunities (3); small businesses think this service is for the big guys (4). These were plotted on a grid, and this showed that working with competitors and collaborators, either to protect the business or to form partnerships, would be a main objective. Other objectives can then be listed in priority of importance. A communications strategy can then be developed around these objectives.
Another handy tool to help define goals and get the information you need to start formulating a strategy is a SLOT analysis. As defined by the Shonali Burke, the SLOT analysis is the same as a SWOT analysis, but the substitution of one word makes for a more positive spin. That said, work toward discovering your Strengths, Limitations (Weaknesses), Opportunities, Threats. Using the above fictitious business as an example, here are some findings: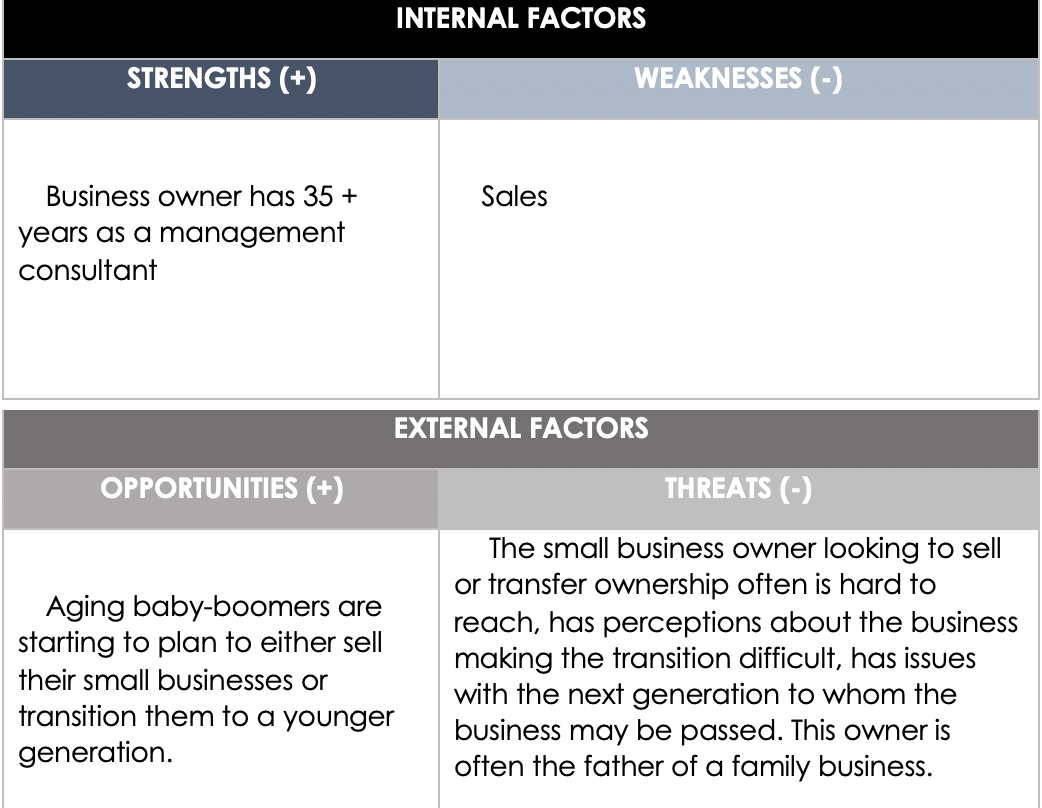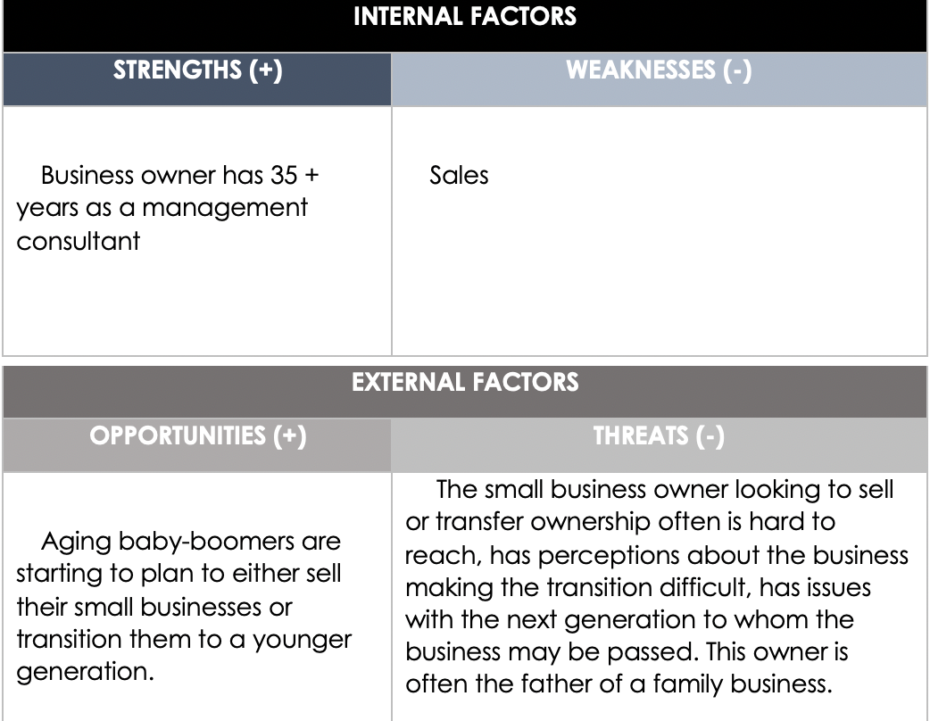 Part of the upfront work will also include researching social media. You need to find your audiences and influencers and on which platforms they publish. There are many your team can use to streamline this research. Some are: Hootsuite, Agorapulse, PostPlanner, Zoomph and Sprout Social to both monitor and manage social media; In the Social PR Virtuoso Master Course, "A 3 Step Field Guide to High Octane Listening," is a guide showing how to keep track of content important to your client on a number of different social and digital platforms.
You also need to find keywords. The Master Course also gives a step by step review on how to find influencers doing a Boolean search, "Keywords Techniques for Data Discovery." Traackr is another tool which can help you to find influencers.
Monitoring social media and keywords will give you a very good idea as to important trends which need to be addressed, what influencers are saying about your industry, who is important to target, media to pitch, and much more valuable research which will help to define goals, objectives, strategies, and tactics.
As Shonali says," The audiences to whom you listen. Engagement will change in priority over time. Consistently look for insights from your listening program, and use those to improve your strategy."
While doing all of this research, be sure to think about what you want to measure and how in order to show that goals have been met to get the desired results. These measurements will be discovered while doing the goals and objectives research. Be sure what you are measuring matches business goals. (Measurement, which can be a very descriptive and granular process, is a separate activity and not a focus of this blog post.)
You may be lucky enough to have a budget in which you can hire an outside PR firm or consultants, which will go very deep in order to research your industry and your company prior to the strategy-development phase.
If not, the above tips will provide an excellent starting point.
There are many different methods, templates and tools in the marketing and public relations worlds which will get you started with planning in order to develop communications strategies. Very basically, always, always remember to align your business goals with your PR goals. One will determine the other. After all this work has been done, you can start writing a strategy with tactics which will be sure to advance your brand or initiative.
"Think it over, think it under," said Winne-the-Pooh.
Pretty good advice from a cartoon bear to PR people.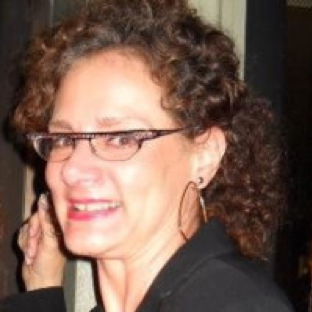 Paula Newbaker is a senior level communicator currently based in Pittsburgh, PA where she consults for non-profits. Spending most of her career in Washington, D.C., her background includes work for a wide range of non-profit organizations, trade associations and government agencies. She is an active speaker and gives workshops for other non-profits and university communications students on the subjects of non-profit marketing and women's leadership. She believes in the "Three C's" in all life endeavors … Creativity, Collaboration, Communication." Connect with her on LinkedIn.