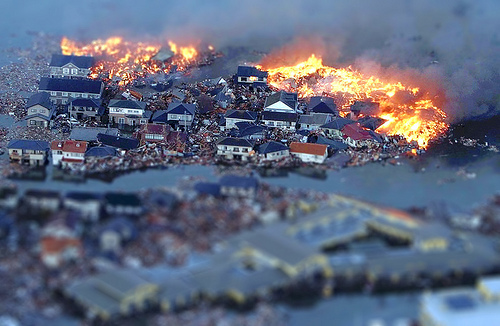 Terror in Japan
8:53 am EST, Saturday, March 12, 2011
If one had any access to the news, it was impossible not to hear of the massive earthquake and tsunami that hit Japan yesterday.
Because of their magnitude,
tsunami warnings were then issued for at least 50 countries and territories, including the U.S. West Coast.
Today I woke up to read more about the aftermath of the earthquake, with an explosion at the Fukushima No. 1 nuclear power plant, though it seems the explosion did not actually occur at its reactor.
Does that mean Japan might be looking at a radioactive disaster?
Possibly, if authorities are unable to cool the reactor (the cooling system of which was damaged in the earthquake)… but we don't know right now.
Millions of Japanese households are experiencing interruptions to their power, water and gas supply… and for how long, no one knows.
And who knows what is to come in the moments, hours, days ahead.
There's a lot we don't know, but what we do know is that we can help.

The Huffington Post has compiled a list of ways to contribute to earthquake relief operations, including:
Please help if you can. As always, you should make sure you're comfortable with and confident of the relief organization you choose to donate to, and understand how the donation and disbursement process works.
But even if it's a small amount – $10, $15 – please do help.
This isn't just Japan's disaster.
It's our disaster.
Because it's our world.