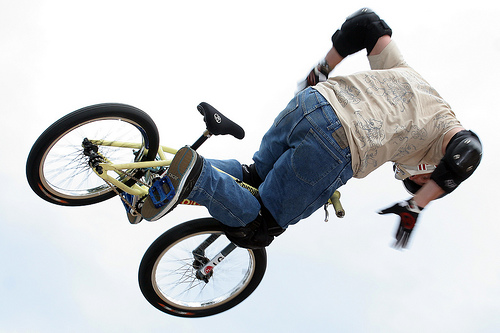 Desperately seeking a BMX
When I was a kid, I desperately wanted a BMX.
It was the '80s, all the kids in "E.T." had a BMX, and my friends wanted one too.
Image: Dirk Ziegener via Flickr, CC 2.0
It was the thing to have.
Except, when one of my friends was actually given one for Christmas, and was willing to let us all have a go, we didn't know what to do with it.
Worse still, we were all a little bit scared of it, including him.
It stopped and steered more erratically than our rusty old bikes, drew lots of attention from bigger, jealous, kids and disapproving parents.
As a result the BMX didn't deliver all the fun it could have done.
No pogos, barspins or grinding. Just trips to the shop and back.
That ol' feelin'…

Some days, working in a digital communication team for the UK Government feels a little like that.
Everyone wants to "do digital," but when you offer some solutions to a brief or challenge, people get a bit scared.
I might want to do a jump and spin, but we have to start with some simple wheelies first.
Making digital tools and techniques a mainstream part of day-to-day work is essential to success.
Using social media for the next big health campaign, or running a forum to let citizens have their say, shouldn't be a special project or added extra.
The web should just be one of the tools for delivery; thought about and planned for at the beginning when discussing objectives.
Only by making people feel comfortable with spaces like Facebook, forums or blogs in a routine context can these tools become prerequisites for the big projects.
I think the trick to helping colleagues conquer their fear of digital tools and techniques is two-fold.
1. Identify where they are online already and help them do more.
I'm always amazed how many colleagues will run a mile from blogging or Twitter, yet are avid LinkedIn users.
Understanding their comfort zone and slowly expanding this is a great starting point.
For example, if they are on LinkedIn, help them improve their profile, connect with more people and participate in some groups.
2. Be persistent and smart; keep offering practical online solutions that deliver against objectives, not buzz words.
Find the balance between breaking new ground for yourself, and what your colleagues are comfortable with.
You'll break the ice eventually and then there is no looking back!
Here are three projects that the Department of Health have implemented.
I can't take credit for all of these, but what's important is that they have helped us do more with social media.
1. Information Revolution web chat.
UK health minister Andrew Lansley answered questions about a public consultation during a one-hour web chat.
People asked questions in advance, and live, during the chat.
It was a great opportunity to put Andrew Lansley into a live social media situation while also offering a different platform for members of the public to engage with the Department of Health.
You can read more about it here.
2. Smokefree Facebook page.
Part of the NHS' (National Health Service) campaign to help people give up smoking.
Lots of discussions, some video, images, events and links to more information.
Moderation is with a relatively light touch, which helps to demonstrate to colleagues that people do have sensible conversations online. You can read more about the campaign here.
3. Press officers using video.
We have started to bring digital to our press office, equipping colleagues with budget flip cams.
When Ministers or other Department leaders make visits, they can broadcast the event to a wider audience via Youtube for little or no extra cost.
Careful training and encouragement gave them the confidence to do it and you can see some examples of their work here.
We've cracked the wheelies now, and the jumps are getting higher and further every time.
I will keep you posted on our progress and I would love to hear your examples of mainstreaming digital in a large organization.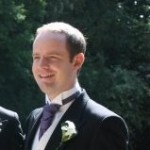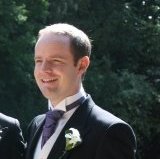 Tim Lloyd works for the UK Department of Health in their digital communications team. He lends a hand to the weekly #nhssm tweet chat, bringing together people who are interested in how the NHS uses social media. When he's not contemplating digital marketing and communications Tim runs, cycles and likes to get behind the wheel of fast or interesting cars. You can contact him on Twitter, where he's @timolloyd.