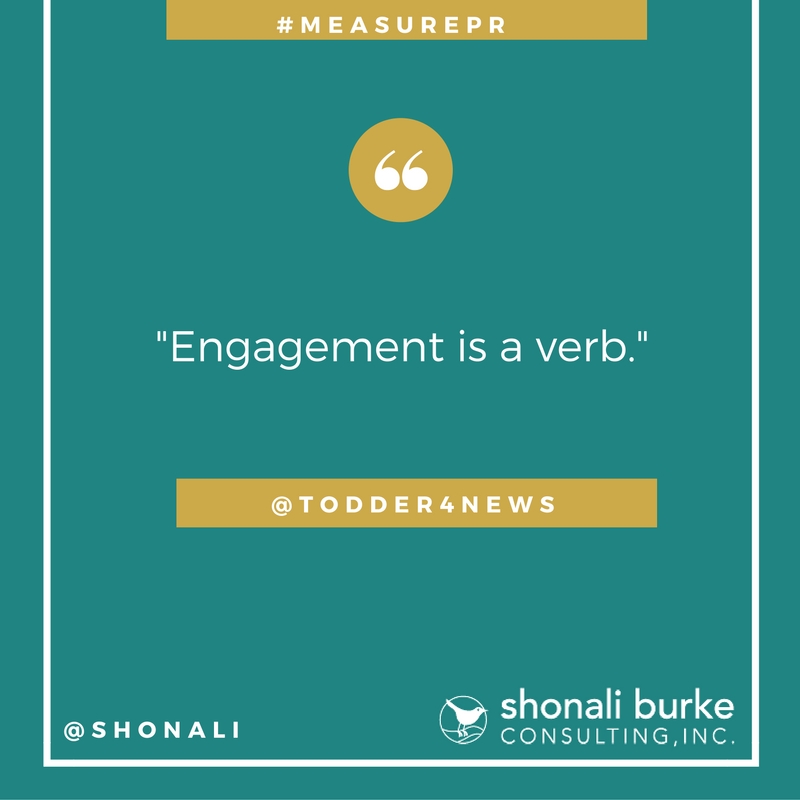 The November edition of #measurePR focused on measuring engagement. Our trio of guests included: Ashley Brown, Head of Global Communications at Spredfast; Austin Gaule, Media Analysis Director at Universal Information Services; and Angie Jeffrey, Vice President Brand Management at ABX Advertising Benchmark Index.
Side note: this was Angie's first time on #measurePR as a featured guest, though I've been asking her to join for ages. Go Angie!
Here's some of what we talked about:
On defining engagement:
1/3 Engagement is anything that provokes an action. That can be a click through, a comment, or a share. #measurepr
2/3 This helps us see which stories are resonating, are driving interest in @Spredfast, and how influential those pubs are to us #measurepr
A2: They key for engagement is knowing your audience. Know what drives them to engage. #measurepr
#measurepr A2 "SM engagement is an action that typically occurs in response to content on owned channels"#measurepr
On integrating paid media to boost engagement with owned and earned content:
#measurepr A4 Paid media digital metrics are easy to see in the ad platforms. Integrate in @Amec Framework http://bit.ly/2eU4e8u #measurepr
PESO measurement! Research this. It's the way the industry is moving. #measurepr
A4 1/3 We use paid to boost earned media. Using the @Spredfast Intelligence tool, we've created custom lists #measurepr
On the most useless way of measuring engagement:
A5: Measuring engagement by "shares" alone. No. Bad. Don't do that. #measurepr
A5 Impressions. #measurepr
#measurepr A5 Measuring quantity of hits, impressions, views, etc., is not engagement. Must have an action. http://bit.ly/2eU4e8u#measurepr
This was a killer chat! If you missed it or just want to refresh your memory, please check out the #measurePR transcript for November 10th.
December #measurePR Announcement
In December, #measurePR gets into the holiday spirit with a chat focused on and around measuring community.
Our guests include Denise Chan, the Senior Content & Community Manager at Bitly; Jordan Feise who does digital, events & influencer marketing for Traackr; Corina Manea, Chief Community Officer at SpinSucks & Arment Dietrich and Founder of NutsPR; and Erica Moss, Community Manager at Trello.
The chat will be held on Thursday, December 8th from 12-1 pm ET, so make sure to mark your calendars for your monthly dose of smart measurement talk – you can "RSVP" via the Facebook event invite (that way The Book can remind you not to miss it!).