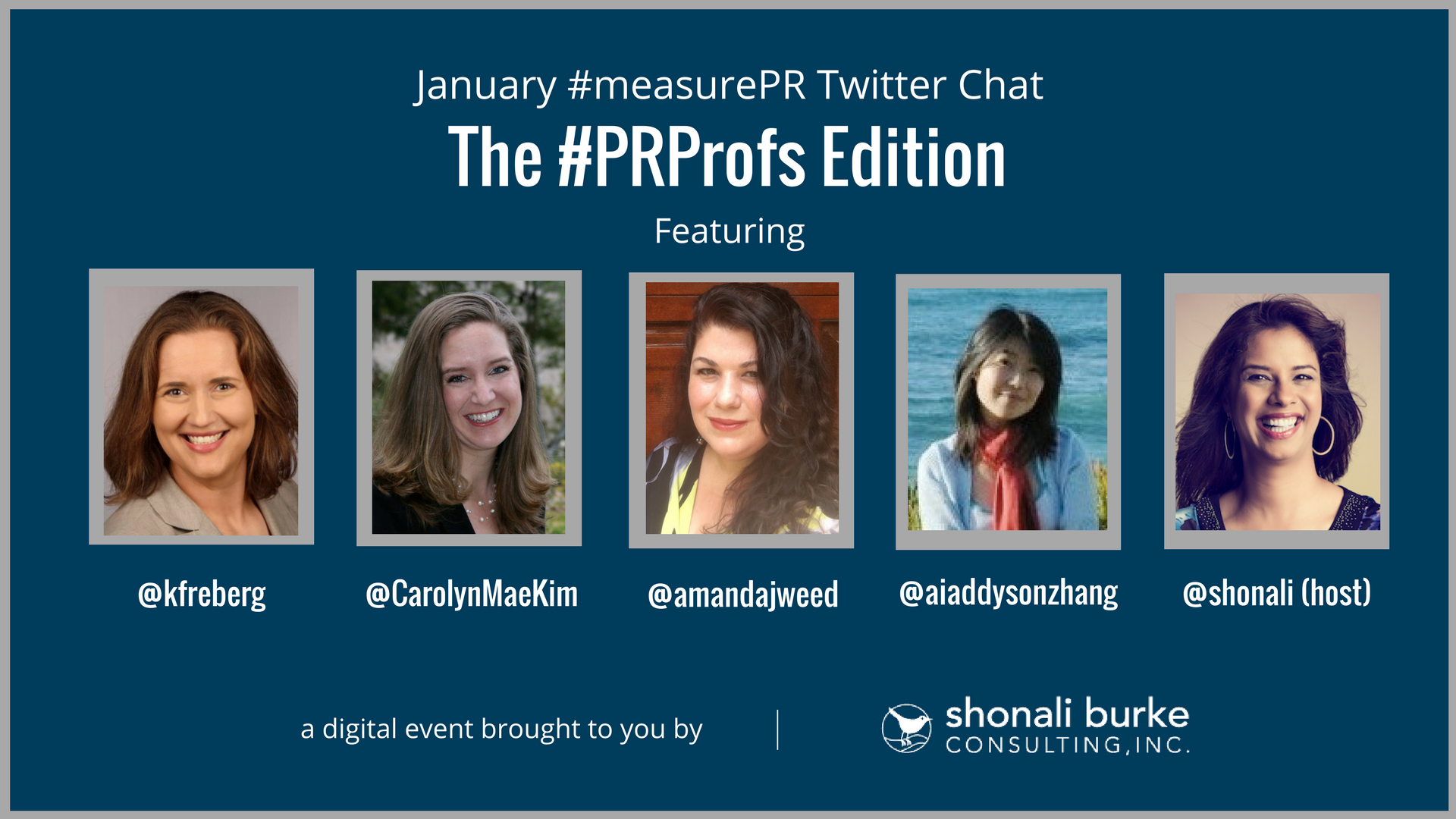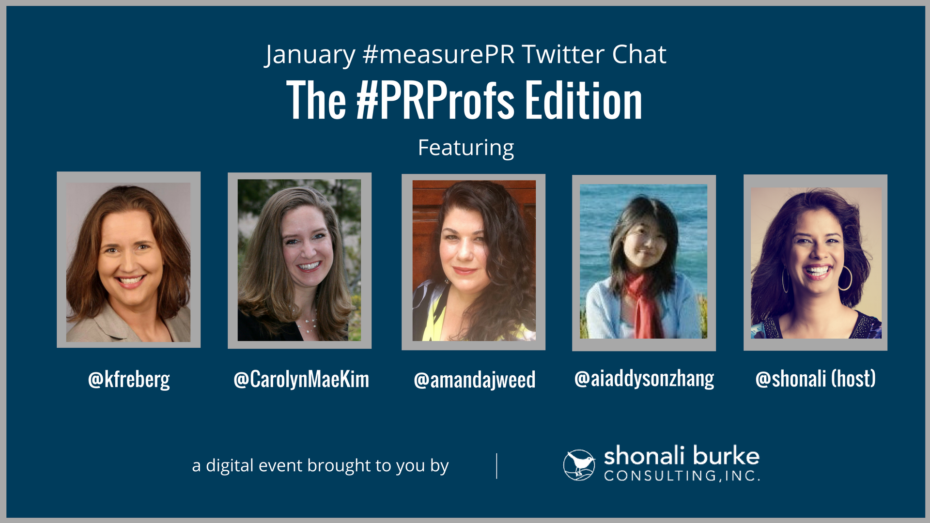 To kick off the new year, #measurePR welcomed a global panel of PR professors to offer advice for PR pros looking to step up their game in 2018.
Our guests included: Dr. Karen Freberg, associate professor in Strategic Communications at the University of Louisville, and adjunct faculty for the West Virginia University IMC Graduate Online program; Carolyn Kim, Ph.D., APR, associate professor and director of the PR major at Biola University; Amanda J. Weed, APR, an instructor at Ashland University; and Dr. Ai Addyson-Zhang, associate professor of Public Relations at Stockton University.
Here's some of what we talked about:
On how PR measurement has changed over the years:
A2: One change is a new commitment to robust standards when we #measurePR. For example, @InstituteForPR has a "Measurement Commission" that provides great research and leading standards. It's a helpful go-to for classes and professionals alike! #measurepr
A2. Moving away from relying on AVE to #MeasurePR. This article has a good list of 22 reasons to say NO to AVEs https://goo.gl/Zk1gBa #measurepr
A2: In social, we are finally seeing a shift from quantity-to-quality of engagements. Previously, it seemed like we were playing a game of Pokémon, where the objective was to "catch them all." (1/2) #measurepr
A2: Gaining 1,000 followers or likes does nothing to determine IRL long-term engagement w/ the organization. We're now seeing a shift away from simple engagements/follows to #measurePR success to more tangible outcomes that more accurately determine ROI of social campaigns. (1/2#measurepr
On PR measurement myths:
A3: "You can't #measurePR" is the biggest myth I hear. Education is a huge part of the response to this…but also sharing standards in our industry, like the # BarcelonaPrinciples2.0. I love this video from David B. Rockland to bring clarity to this myth!#measurepr
A3: That measurement can only occur after a campaign is done. I drill my students with the knowledge that you must #measurePR before, during, and after a campaign.#measurepr
A3a. PR is too soft. PR is intangible. You cannot measure it. With so much data & so many tools available for free, you cannot make excuses anymore. #measurepr
On the one thing PR pros can start doing to improve PR measurement:
A7: Use your ABC's (Always Be Curious). Review what has (and hasn't) worked for your organization in the past. Monitor your competitors. Follow the campaigns of award-winning organizations. Research is key to developing an appropriate and effective #measurePR toolkit.#measurepr
A7: Have a growth-mindset. Invest in learning about analytics & data. Join a webinar, participate in communities like this one, or learn a new data platform. This is something we all can do, whether we only have 30 minutes or are able to spend several hours. #measurepr
A7. Be better at social listening. There's SO MUCH noise on social media. SM is NOT a broadcasting channel. Use social to engage & to listen, & act on the infor you gather. #measurepr
A7. Be better at social listening. There's SO MUCH noise on social media. SM is NOT a broadcasting channel. Use social to engage & to listen, & act on the infor you gather. #measurepr
A7. Go through certifications (make sure to check out the ones from @hootsuite @HubSpotAcademy @Brandwatch @googleanalytics), network and chat w/ fellow professionals and thought leaders in metrics/measurement, and continue to educate yourself each and every day! #measurepr
As you can see their was a wealth of helpful information being shared, so before we knew it time was up. If you want missed the chat or want to revisit some of the insights shared, check out the #measurePR transcript for January 11.
February #measurePR Announcement
The next #MeasurePR Twitter chat will be held on Thursday, February 8, 2018 at 12 pm ET.
We'll discuss best practices for building, and measuring, community with special guests Madalyn Sklar, host of the #TwitterSmarter chat, and Kami Watson Huyse, CEO of Zoetica Media LLC.
Madalyn and Kami are co-founders of the podcast, "Communities that Convert," and will share their tips and best practices on the chat.
So make sure to mark your calendars for your monthly dose of smart measurement talk and use the hashtag #measurePR to join.
You can also RSVP to our Facebook event for the latest updates and reminders. We hope to "see" you there!