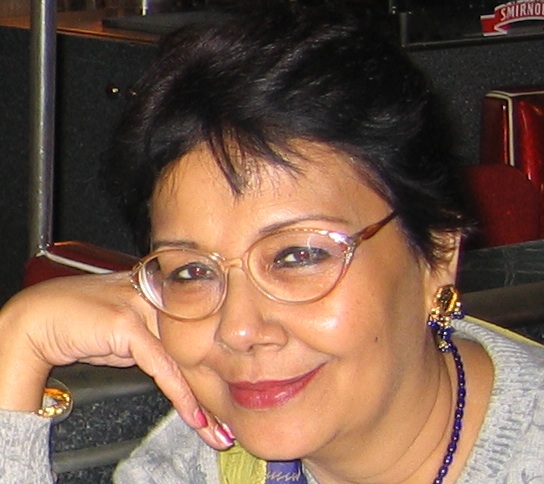 For Mother's Day last year,
I didn't buy my mother an expensive gift, or take her out to dinner, or do any of the things that would, no doubt, make a lot of marketers and companies happy.
(That's her, on the right. Ain't she pretty?!)
It's not that I didn't want to do them. I would have loved to have been able to spend some one-on-one time with my mom, for example.
But those things are a little tough to do when one is halfway across the world from one's mother. Except the expensive gift part, which I could no doubt have bought and FedExed to her.
But I wasn't particularly flush with funds last year. And what my mother values more than anything, while she does like "stuff" (let's admit it, most of us do), is knowing her kids are healthy and happy, and that they love her.
I usually talk to my mother every weekend via Skype (yes, to my dad as well, I'm not mean!), and it makes a huge difference to me to be able to see her face.
Sometimes those are happy conversations, sometimes they're tired conversations (as in when either/both of us is feeling tired) … sometimes tears are shed.
But they always end with a "love you."
So last year on Mother's Day, I created a heartspace for my mom, which I was able to do thanks to the terrific folk at Epic Change.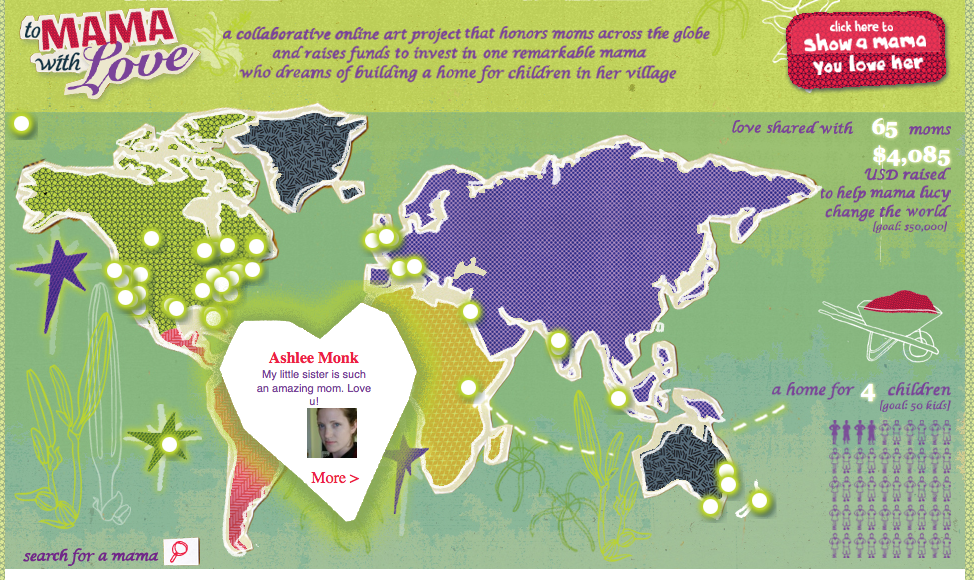 I'm doing the same this year, and wanted to share it with you as a way for you to celebrate your mother as well as support the efforts of four quite extraordinary women:
"Mama Lucy" Kamptoni, who sold chickens in her Tanzanian village and turned her income into a primary school that now serves over 400 children;

Suraya Pakzad, recently named one of TIME's 100 most influential people, who's an Afghan activist on behalf of the rights of women and girls; she originally founded the Voice of Women Organization (VWO) to educate girls in secret schools in Kabul under the Taliban, and has since expanded to support and assist underprivileged women and children throughout Afghanistan;

Maggie Doyne who, at the age of 19, used her life savings from babysitting to start the Kopila Valley children's home in Nepal, which has grown to a home for over 40 children and a school serving over 200 students; and

Renu Shah Bagaria, the founder of Koseli, which is a center for children in Kathmandu, Nepal who, due to their economic circumstances and country's recent civil war, live in the city's streets and slums.
I've known of Epic Change since last year, but got to talk to Stacey Monk for a while last week (and am excited about getting to meet her IRL at the Nonprofit 2.0 conference coming up in DC in a month's time… if you're here, you should come too!).
The thing is,
I see a lot of people talk about love, changing the world, yada yada yada. I don't think I'm particularly cynical, but I sometimes wonder how much they mean it, or if they mean it at all.
When I spoke to Stacey, I was left with absolutely no doubt in my mind that she means every single word she says, and writes. And a couple of things she said to me stood out:
"At Epic Change, we believe that love is an incredibly powerful force. In the U.S., we spend more than $14 billion annually on Mother's Day, and what we're really trying to express is love.

"To Mama With Love is an invitation to turn back to love, to get people to be meditative about the intention behind their giving, and about the transformation that happens within us when we act on intentional giving."
Those words – to be meditative about the intention behind one's giving – really resonated with me. Most of the people I know are extremely well-intentioned, but I'm not sure how many of them, myself included, are meditative about that intention.
So I'm going to try harder from now on.
And talk about this expression of love being tangible; it's helping Mama Lucy grow her school, and it's recyclable, because as Mama Lucy repays the loan, that money is, in turn, being invested in projects in other communities.
That's change I can believe in, and get behind.
This is my 2011 heartspace for my mom.
Being a big baby, it's tough for me to write about/to her without bawling, but I can live with that.
I think it would be terrific if you'd do the same for your mom, or any mother(s) special to you.
Will you?