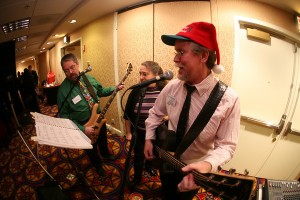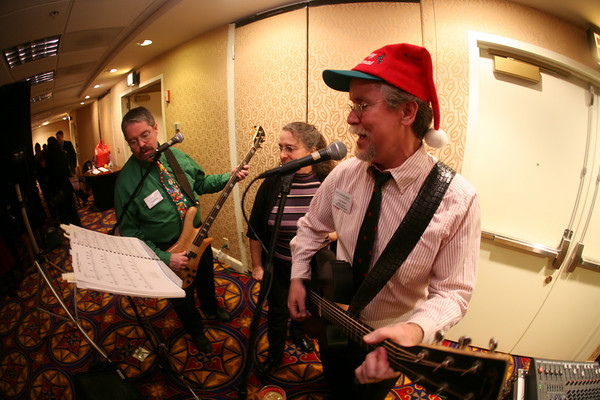 Last week I (and several others) attended IABC/Washington's holiday party. I think a decent time was had by all (I had fun, but then, I'm the chapter president so I'd hardly rat my own chapter out).
We had wonderful holiday music provided by the Marsh Brothers (one of whom, Greg Marsh, is a chapter member; I learned this thanks to Judy Gombita, who is, I'm convinced, omniscient). We raised money for Bread for the City via a raffle ($450) and donations and we networked our hearts out. I can't thank our raffle donors enough.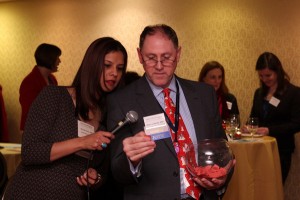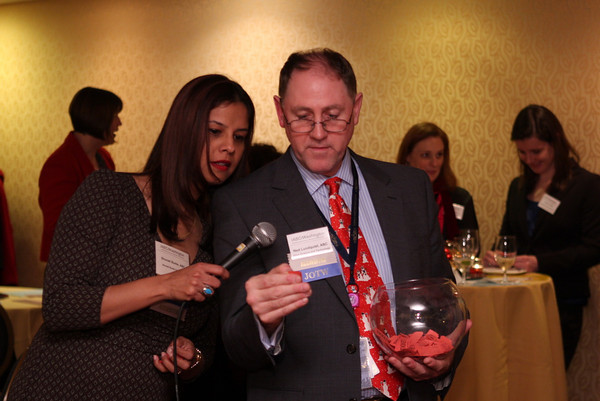 Measurement legend Angela Sinickas made a surprise appearance, which thrilled me, measurement fanatic that I am. She generously made an on-the-spot raffle donation as well, as did Paul Duning of the Capitol Communicator. The food wasn't great, but the bonhomie was.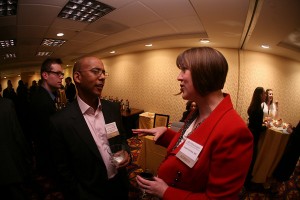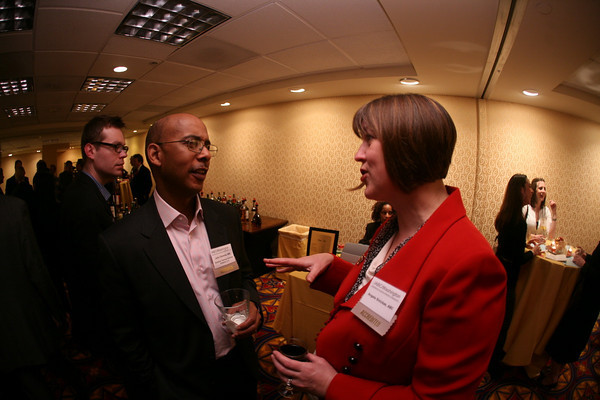 What really warmed the cockles of my heart, though, was when we did a slightly different iteration of what we call the "go around." (We say this is an IABC/Washington tradition, but I have no way of knowing if any other chapters or groups do it.)
At any rate, the "go around" is where we invite anyone new to the chapter or IABC, looking for a job or with a job to offer to stand up and share that information. It's a way for us to welcome newcomers as well as for job-seekers and providers alike to be able to identify each other, not to mention put them on the radars of those who might be able to help them.
Last week, we added something to the GA. We asked people to share good news – account wins, new jobs, etc. – as well.
You know what? Many people did; quite frankly, way more than I expected in this economy. And almost all of them had something good to say about IABC in the bargain. One even credited his new job – a 17-month process! – with a specific IABC-sponsored workshop and offered to share his learnings with anyone who wanted. Which, obviously, is a great thing for potential new members and sponsors stopping by to hear.
WIIFM
One of the questions I hear over and over again, when it comes to association membership, is "What's in it for me?" Even if it's not explicitly stated, you know that's where the questioner's going.
If you'd been at our holiday party, I believe you'd have gotten the answer very clearly. What's in it for you is camaraderie. What's in it for you is experience. What's in it for you is giving and receiving through the generosity of spirit.
What's in it for you are the completely unanticipated consequences of throwing in your lot with a bunch of your fellow communicators who, once they see you're along for the ride, will start bringing value to your life in ways you probably never imagined.
And while no one can promise you a job, or a raise, or a promotion as the result of joining such a group, chances are you'll get more out of it than you ever dreamed of. But you've got to show up and get involved.
My Wish for You: a 2010 Resolution
If there's one thing you do for yourself as a PR or communication professional, as 2009 gives way to 2010, please consider this: commit to a professional development group and pitch in. That last part is important; you've got to get involved.
It doesn't have to be IABC; choose your local PRSA chapter or any other group where you feel a gathering of kindred spirits. I know it's not inexpensive and believe me, I've felt the pinch.
But it really is the best investment you can make in yourself and your growth as a professional. You'll make incredibly strong bonds with people you might otherwise never have met along the way… and you know what else? Your career will follow.
That's what's in it for you.