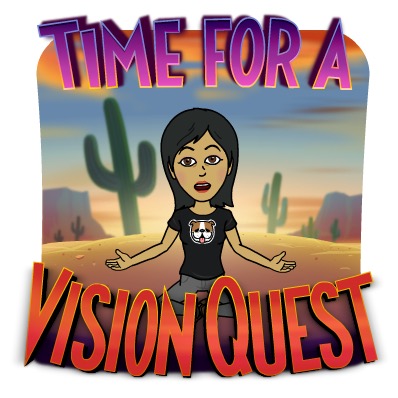 Are you figuring out your "three words" for 2017, setting up your New Year's resolutions, and all that jazz?
True confession: there's a mildly bitchy part of me that wants to roll my eyes and do my best Valley Girl imitation when I hear stuff like that.
Which is a) ridiculous, because I think these are GOOD exercises to go through, and b) I've done the EXACT same thing in years past.
So in many ways, the joke's on me. ;-)
Knee, meet jerk
When I pause long enough to stop my knee from jerking around as if it's been commandeered by Gepetto on Adderall, I'm able to zero in on why exactly I have this reaction.
It's because:
1. Three words (or any other number), no matter how motivational or impressive, won't do much if we don't actually pair them with action steps; and
2. If we rush to plan for the future without taking stock of the past, I don't see how we're setting ourselves up for success.
Because we're just going to make the same mistakes over and over again.
With love, from me to you
As you set some time aside this holiday season to reflect and recharge, I have three suggestions for you:
1. ACKNOWLEDGE the "why."
Especially at this point in the year, I think it makes a lot of sense to stop, look back, and see what worked, what didn't, and why.
Acknowledging the "why" is the most challenging part of this exercise.
And it pains me to say this to a hot British dude with just the right amount of facial hair to set my lady pheromones jumping, but Simon Sinek, this is WAY tougher than finding YOUR why.
Not because it's hard in cerebral terms.
But because it forces us to look our shortcomings squarely in the face.
And let's face it [sic], no matter how much we claim otherwise, no one likes to do that.
No. One.
2. If you've acknowledged your "why," then you're halfway to #2.
At my free live Masterclass you will learn to turbocharge your Social PR career and perform at an elite, superhero level. Sign up now!
This is not a thinly-veiled pitch to get you to sign up for the Social PR Virtuoso® Master Course btw (I'm not even linking to it).
I truly believe this is a fantastic exercise to help you establish your Social PR framework for 2017.
3. Let go.
Most, if not all, of you, are Type A. I know I am.
While there are a lot of great things about being high- and over-achievers, you know what's not so great?
How much we beat ourselves up when something didn't work.
Big deal if we didn't make or exceed your revenue goals by X%.
Whoop-de-doo if we didn't make it onto whoever's list of 500 Social Media Stars to Hitch Your Wagon To.
There'll be another list, another goal, another opportunity to do whatever.
As long as "no animals were harmed in the making of this commercial," as it were, does any of that really matter?
Easy as 1, 2, 3 … or maybe not
This is my current, personal iteration of the "three words" meme. Maybe easy, maybe not.
But, as we prepare for the year to come, they are what I'm giving you from my heart, because I think they can help with the transition.
Take what you like, and leave the rest.
PS: I'd love to know what you think. Leave me a comment below – you know I'll respond.