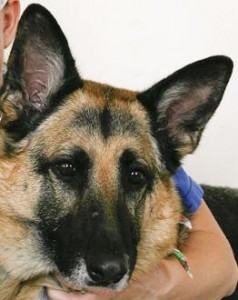 The Darby saga has been going on for weeks now (if you're a first-time reader, check out my earlier posts at the bottom of this one to get up to speed, but long story short, she's an "orphaned" GSD in Portland, Ore., for whom I'm trying to find a home).
When I started blogging, tweeting, etc., about Darby, I asked the question, "Can Social Media Find Darby a Home?" Truth was, I didn't know. I just knew I had to get the word out about her any way I could.
Well, after several potential homes fell through – and I was starting to feel thoroughly discouraged – something wonderful happened yesterday. Portland's KOIN-TV picked up Darby's story via Megan Drake's story on Examiner.com, and did a lovely segment on Darby at 5:30 p.m. (PT) yesterday. Here it is:
Check that Darby out. Isn't she gorgeous? Truly an "e-star."
As of this writing, I've heard from at least two people who are interested in adopting Darby, and very much hope one of them will work out.
Nothing's a done deal just yet, though, so if you're one of the many people who've been trying to spread Darby's story, please share this video and/or post with those you think might be interested and/or able to continue the information chain.
As to thanks – there are so many of you to thank, I don't know where to begin. For now, thank you EVERYONE who's been trying to help, especially my Tweeps (or "support crew," as one of them put it), and especially KOIN-TV; Megan Drake; Susan Ragan, whose stunning photos of Darby, including the one in this post, have put a face to this story; and the incredibly generous and kindhearted folks at Townhouse Pet Care Center, who are now caring for Darby free of charge until we re-home her.
The world is a better place with you in it.
Earlier posts: