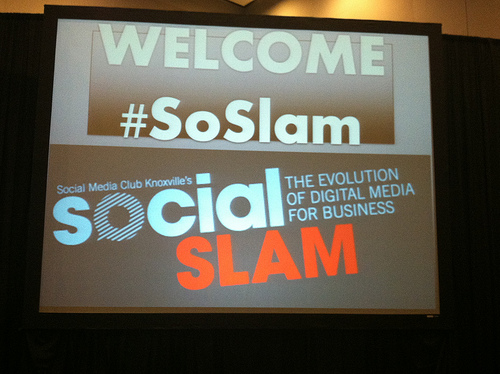 I always wondered when it would happen and, last week, it finally did. I'm talking about that moment when your social media and real worlds collide.
Leaving on a jet plane
I left last Thursday morning for Social Slam, via a direct flight from Dulles to Knoxville. While waiting at the gate to board the flight, a woman came up to me, clipboard and pen (maybe it was a pencil, I don't remember) in hand. She asked me where I was flying to. Quite frankly, I was taken aback.
Who was she? Someone doing a survey? Someone looking for donations to a charity? A scam artist? How did she get through security if she wasn't a passenger herself?
I was so taken aback that at first I just said, "Excuse me?"
She repeated the question. I replied. Then she asked if I would participate in some kind of survey they were doing of travelers. I still don't know who "they" were, because I didn't ask… but I was right about the survey bit!
But still… how did she get through security? Do they allow that, giving random survey people access to boarding areas? Isn't that a security hazard?
I hesitated, because she was an older lady, and I really didn't want to be rude to her. At the same time, the clock was ticking, and the last thing I needed was to get stuck in a conversation about my traveling (or other) habits, when the flight would start boarding at any moment.
So I said – I think politely – "Well, my flight's about to board, so I'd really rather not, but thank you anyway." She smiled, said OK, and moved on.
Phew. Potentially weird conversation averted and, in fact, it couldn't have been more than a couple of minutes later that our flight started to board, so I was not made a liar.
"I know you!"
Not that much later, we landed in Knoxville, where Gary McCormick, former PRSA Chair and who has made an appearance at WUL, very kindly picked me up at the airport and drove me to HGTV headquarters (he works there, and did you know they were in Knoxville?) to give me a tour, which was just marvelous.
Once Gary dropped me back to the hotel, I ran straight into Dino Dogan, who had just checked in, and met Brian Vickery for the first time (who had to keep putting me back in the elevator because I'd keep getting out on the wrong floor). Then, literally after dropping my bag in my room and freshening up, came back down to the lobby where we'd all agreed to meet before heading to the pre-event tweetup.
As introductions were being made, I shook hands with Jonathan Barrick. As I did, he exclaimed and said, "Oh, you were on my flight! I was sitting right by you when that lady came up and asked you to do the survey!"
That was it. That was The Moment.
When someone I kinda knew from social entered my very real world, saw me functioning as I really do, in a completely "non-social media" setting. He could either have walked away thinking I was a complete beeyaatch, or that yes, the social persona was a decent enough precursor of the actual human behind it.
I think – and certainly hope! – it was the latter. Because I think the online me is pretty much the offline me; it's just that there are shades you see offline that you can't see online because of the differences in dimension. But of course, I don't know how others perceive me (which is why Bill Dorman's post from yesterday was so interesting).
Your turn
If this hasn't happened to you yet, believe me, it will. And all I can say is, you better hope who you are in real life is who you're portraying in social media, because if the twain ain't meeting, your fame will definitely be fleeting.
I know. That's a really bad rhyme, but perhaps it made you smile. Or groan. Probably groan.
But now that I've given you a good laugh, or a bad groan, will you tell me… have you already had Your Moment? If so, where/when was it? How did it go? Please share, I'd love to know.