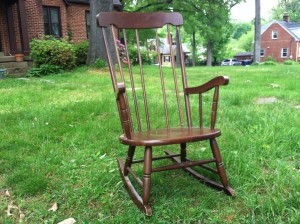 Can you believe WUL celebrated its fourth birthday earlier this year? I didn't make a big deal about it as I've done in years past, because… well, I don't know why.
But I should have, because in a world where blogs come and go (as so much else does), I'm proud that WUL is still around. Four years may as well be four decades in our world of instant gratification!
Ch-ch-ch-changes
Those of you who've been with WUL from the beginning have seen how it's changed. The only thing that is more or less the same is the theme I started with (and I love it too much to let it go… for now…) and which, incidentally, influenced the look and feel of my business site once that was set up. There's just something about the little bird that I love, and that I don't want to let go of.
But it's changed in so many other ways. We changed the tag line (bet you don't even remember what the old one was), we welcomed guest bloggers, many of whom have become fixtures here. And though some have moved on, I'm grateful to each and every one of them for their contributions, because WUL is what it is because of all of us collectively.
We went through dry spells, and extremely fertile spells (a post a day for a while… I honestly don't know how I did that, hats off to bloggers who can make that happen). Some of us shared very personal experiences (cough, me, cough… Gini, did I get that right?) and you responded with warmth, and sincerity, and support. We've had active discussions, some fairly heated, some more playful, and we've done it all together.
What do you think?
We know when you like posts, by your sharing and commenting… but there are a few things I've always wondered about, Analytics be damned. And, four and a half years down the road, I think it's high time I asked you directly.
I want to know what you like/don't like about WUL, what you'd change if you could, which posts compel you and which make you reach for the "delete" button… and yes, I want you to be honest… preferably civil as well, but definitely honest!
Because, as you know, WUL is a labor of love for all of us. Just like all labors of love, it takes a lot of time, and especially since I'm trying to build my business back up at the same time, I need to make sure we're not just publishing here for the sake of it.
And that is why we need your feedback.
I didn't want to do anything as formal as a survey, but I would really appreciate it if you would leave your responses in the comments section, so that we can make sure WUL continues to be a forum that challenges you intellectually, stimulates you emotionally, and makes you comfortable enough to kick off your shoes and stay a while.
Here are my questions:
1. Off the top of your head, can you name some of your favorite WUL posts (even one)? What made them (it) so? Are there some writers you prefer over others?
2. Do you care how often we publish posts on WUL and, if so, do you have a preference? When do you actually read the posts? Have you ever thought we publish too often?
That's it. I mean, I could ask more questions, but I figured short and sweet is better.
But if you have other comments about WUL, please do let me know below. See that rocking chair above? That's for you to sit in as you tell us what you think.
Don't worry, we're not planning anything drastic. We just really want to know what you like about the blog, and how it provides value to you. So thank you in advance for sharing your thoughts – we really appreciate it!