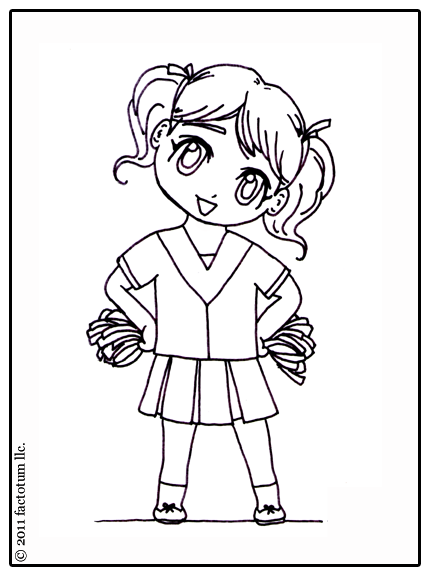 Guest post by Erin Feldman
I never was a cheerleader.
I wasn't the type. I wasn't extroverted or bubbly. I was one of the quiet ones. I liked to study. I liked to read. I liked to think.
But even though I never was a cheerleader, I understand the benefits of having a cheerleading squad.
A cheerleading squad cheers for the team despite how well or how poorly the team is doing. The team's performance doesn't matter.
The cheerleading squad's job is to cheer. It's to be encouraging. It's to push the team to work harder, to play better, and, possibly, to win. It's to inspire onlookers to participate in the cheering.
A cheerleading squad isn't all fun and cheer, though.
The squad's comprised of different people. It has its coaches. It has its cheerleaders who lead the crowds in chants. The squad has its tumblers and flyers. It has its support team, the base and the spotters.
Everybody needs those squads and those people. Students need them, and working professionals need them.
Business owners especially need them, but many face their days without any sort of squad.
They might have families, but their family members may not understand what they're trying to accomplish or be able to offer insight. They may have friends, but their friends may not be cheerleaders. Such friends may be good listeners, but they don't know when they need to change the cheer to a rallying cry.
Maybe the friends only cheer without catching. Maybe they catch but don't propel the business owner back into the air.
It's because of those things that business owners need to build their own cheerleading squads, their own communities. They need to find the people who will support and critique them. They need the people who will listen to their griefs and frustrations without saying a word, and they need the people who will approach their problems logically.
They need both right- and left-brained people in their lives. They need people who will cheer, catch, and propel.
Business owners who are interested in building a squad may do so locally. They meet people at networking events or seminars, and those people turn into their best cheerleaders. Business owners join organizations, begin to participate, and meet people who can offer support and advice.
Other business owners can't do that.
They may not live in an optimal location. The local culture may not be welcoming. Such business owners have to create a squad in other ways.
They might blog. They might use a social network or two. Such efforts work, but they have their limitations. An online community, particularly one built on a public platform, won't know and won't be available for all the nitty-gritty details. Although weekly video chats or phone calls begin to get closer to a genuine community, those things are somewhat removed.
Business owners need a few people who are going to give hugs, a friendly pat on the back, or a punch in the arm. They need people who will say it's time to play for a little bit as well as people who will say it's time to get back to work.
Still other business owners have the best of both worlds. They build a two-pronged squad consisting of both offline and online cheerleaders. If they have too many "cheering" cheerleaders offline, they find people online who will catch them or push them to try new things and vice versa.
Do you have a cheerleading squad? How do you build it?
Image © Erin Feldman, used with permission