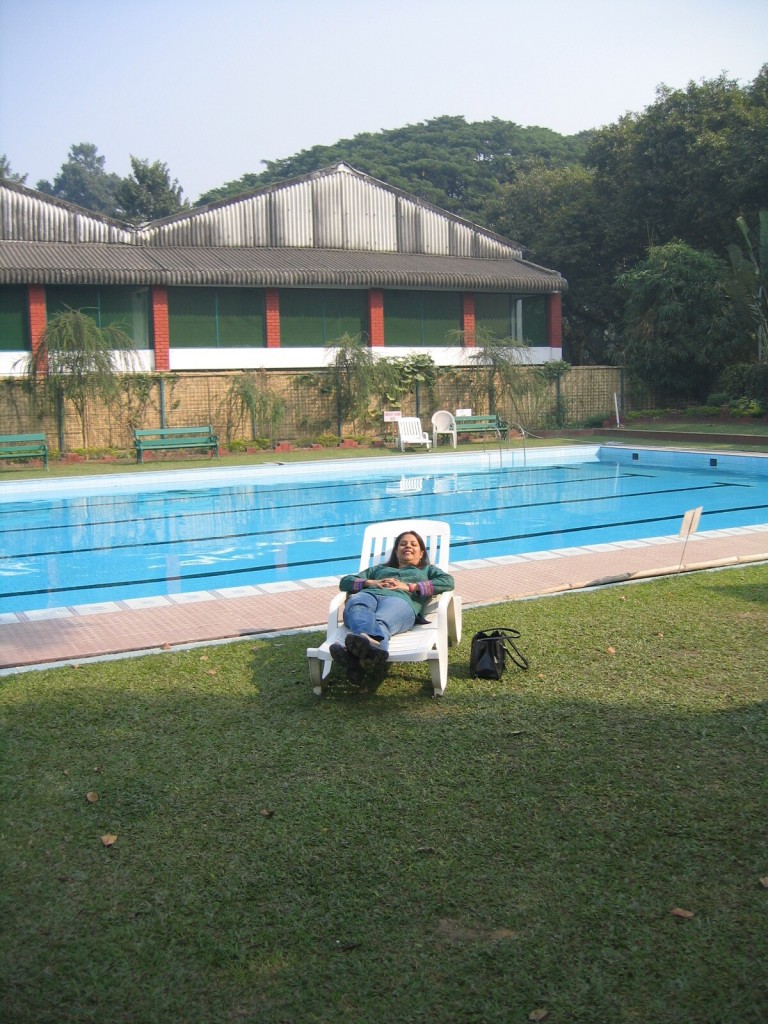 This week, I'm doing something that's long overdue.
I'm taking a vacation. And I'm not going to do anything.

Not a trip to an exotic locale, or one that's filled with a ton of exciting things to do.
(Though lounging by a pool does seem tempting, doesn't it? That photo's from a trip to India a few years ago).
A simple, stay-at-home, do-nothing vacation. Or, as they say, a "staycation."
It's been a hectic year (though doesn't it seem as if every year is hectic, when we look back?), with ups and downs… as they tend to be. Nothing particularly earth-shattering about that.
Work has been, for the most part, good to me, and family and friends have been wonderful.
I've been lucky to travel a lot, from Alaska to Montréal, from Seattle to Jacksonville, and two memorable trips to London (the first was a vacation, to be sure, but it feels so long ago).
I'm happy, healthy… and very tired.
Tiredness is a state of mind and body that we are all too familiar with, and when I cross the threshold of what I consider "normal" tiredness, I start becoming cranky, unproductive and a complete pain-in-the-butt.
If I haven't already crossed that line, I'm pretty close.
Time to bring on the heretical productivity.
Since I'm lucky enough to have clients for whom I can schedule work in advance, a husband who understands the need to recharge one's batteries, and the ability to schedule blog posts (thank you, WordPress!), I'm going to do just that.
I'm not quite sure what I'll do; you might see me on Twitter and Facebook (if we're connected there) briefly… or you might not.
I might sleep (a lot), read, cook, wander around with the dogs … or not.
I might work on things I've been thinking of for a long time… or not.
I might go watch a movie… in the theater… or not.
What I am 99% sure I will not be doing is
being chained to my desk, laptop or BlackBerry;
stressing out over what didn't happen or what might not happen; and
spending a lot of money at post-Christmas sales on crap I don't need.
Because when I'm so tired that I'm a pain-in-the-butt crankypants, as described above, it affects everything about me personally… as well as my work.
And who wants to work with a crankypants?! I certainly don't.
I'm also not going to schedule any calls or meetings until I get back to work.
I have a tendency to overbook my calendar (be honest, you probably do too), and then I start getting stressed, and the whole ruddy cycle happens again.
Of course I will be on call for urgent situations – and all my current clients know how how to reach me if they need to.
But if I'm lucky, there won't be any crises, and the planning and "pre" work I've done will pay off, bringing me back to work in 2011 fully charged and raring to go.
It'll be interesting to see how it works out.