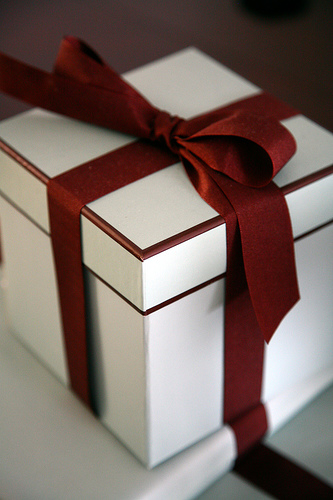 No more fun and games
With the buildup to Christmas, are you feeling deflated now that the actual day is over?
No more presents, great food and holiday cheer, you think? Nothing to look forward to?
Well… possibly, but today's another pretty cool day. And that's Boxing Day.
Image: Joey Rozier via Flickr, Creative Commons
For the uninitiated, Boxing Day is the day after Christmas (though where celebrated, marked on the first weekday after Christmas, so that would mean it's actually tomorrow, but whatever).
Traditionally, it's been the day when people would give one of their "nice" presents to "the poor." Paying it forward, you might say.
Side note: every time I hear or write or think of the phrase "the poor," I think of that bit of dialog from "The Sound of Music" when the Captain's trying to tell Maria, not so delicately, that she needs to dress better.
Captain von Trapp: It's the dress. You'll have to put on another one before you meet the children.

Maria: But I don't have another one. When we entered the abbey our worldly clothes were given to the poor.

Captain von Trapp: What about this one?

Maria: The poor didn't want this one.
Ha!
Anyhoo. Not that you're poor or anything, but here are some great posts that I'm "boxing" up to share with you.
1. A naughty or nice checklist, from Davina Brewer's 3Hats Communications.
Why: It's hilarious. And very pertinent for public relations pros.
2. The Hallelujah Chorus, from 5th-graders in the rural Alaskan village of Quinhagak, Alaska (thanks to Mary Barber for the tip).
Why: It's so cute. Inspired, I venture to hazard, by the Silent Monks' Hallelujah chorus, but it clearly took a lot of effort to rehearse, film and edit this.
3. 'Twas the night before Christmas (PR style), from Andrew Worob's PR at Sunrise.
Why: I dare you to tell me your world wouldn't be turned upside down if you got a call from Ms. W's producers.
I've actually gotten these calls from major talk shows, and they are invariably last-minute and rushed (I haven't yet cracked the Oprah magic egg, though, something would always fall through with them).
So this made me laugh.
4. 5 social media gifts I want from Santa, by Matt Singley.
Why: I love these ideas!
5. Forget Foursquare and Facebook. e-Christmas sales driven by free shipping, from Social Media Influence.
Why: Hmm. Makes you rethink the whole social media shiny toy thing, doesn't it?
6. Free Christmas RSS icons for blogs, from Free Vector Clip Art.
Why: seriously? You're asking why?! Hey, it's still the holidays, right?
7. The digital story of the Nativity, created by Excentric.
Why: I know I mentioned this in my post a couple of days ago, but how can anyone ignore a video like this?
What a great way to tell one of the most beloved stories of all time.