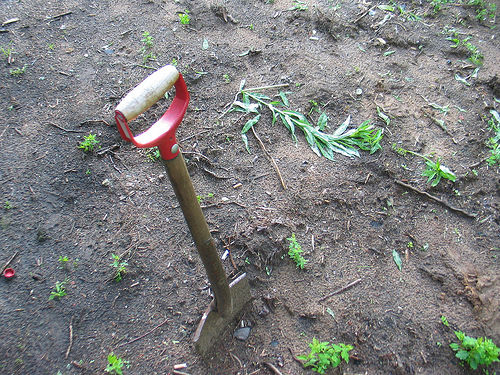 Part of the Blogging for Grasshoppers series
So you're starting a blog.
Image: Vienze Ziction via Flickr, CC 2.0

Congrats! I know that's a big step to take, and it can be frightening. You probably have all sorts of questions, like:
How will you keep it populated with good content?
Who's going to pay attention?
And more.
Of course, knowing why you're going to blog is a good thing, since it will guide you on content and so on.
But even if you're using your blog literally as an online diary (and let's not forget that's how blogs originated), its name is something you want to be happy with.
Because it will probably stay with you for a long time, right?
Now that
it's past the two year mark since this blog went live, here are some of the things I've learned, that I wanted to share with you.
1. What's in a name?
Now that you've decided you're going to start a blog, you have to figure out what to call it. At first I wanted to have "public relations" or "communication" in my blog's title.
So I wrote down as many titles as I could think of using several permutations and combinations of those words.
But when I Googled for blogs dealing with these subjects, every single one of the ideas I had was already taken.
Guk. What to do?
I've always liked the phrase to "wax lyrical" about something. But it struck me as being a little presumptuous to declare that everything I wrote would be "lyrical."
So I went with the opposite. It had a ring to it that I like, even though the title itself really doesn't have anything to do with what I do.
But in a way, it has everything to do with what I do. Because I "wax unlyrical" every day when I'm working, writing, blogging, talking…
I wasn't sure, though. I continued trying to come up with alternatives, but kept coming back to "Waxing UnLyrical."
There was just something about it.
So I did what anyone sitting on a fence would do; I reached out to a couple of folks I trusted – Lisa Hoffmann, who had shown me great kindness on Twitter though I hadn't met her IRL at the time, and Robin Lane, a dear friend of mine IRL.
They both loved it, and one of them told me that if I didn't use that name, she was going to.
Nothing like an ultimatum to get you going.
So Waxing UnLyrical came into being.
And you know what? People like it. It stands out, even if it's a bit of a tongue-twister at first.
Yes, in the beginning I got tons of hair removal spam. C'est la vie.
2. Once you've named your blog, purchase the logical domain name, if it's available.
In this case, for example, it's Waxing UnLyrical [dot] com.
Certainly, there are free options to hosting, whether you're using Blogger or WordPress, but there is nothing like owning your own space and name on the Web.
It makes you look more professional, and will save you a ton of hassle if, down the road, you decide to move to a self-hosted blog.
People like Seth Godin don't have to care about this. But you and I do.
By hassle I mean transferring content (if that's what you want to do), re-setting the whole thing, taking a hit in your search rankings, and so on.
If you're feeling uber-confident or, rather, your wallet is, you could consider purchasing the .net and/or other iterations as well.
Then all you have to do is point the others to your main domain. This helps when people are searching for you/your blog.
3. Purchase your own domain name.
Many people don't think of this. But in an era where we live so much of our lives online, it makes sense to "own" your own name online… at least at the domain level.
In my case, I use my "name" for my business site. But if I hadn't set that up, I would still have purchased it and pointed it to WUL.
I just looked at my Google Analytics and currently, "shonali burke" is the second most used keyword that brings visitors to my blog.

(The keywords change over time, of course, but so far, my name has always been in the top five).
It's also the top keyword for people visiting my business site.
Do this: see if you can find your name [dot] com online, if you haven't already purchased the domain.
One of two things will happen:
You'll get an error message, saying your search engine couldn't find it (which is good); or
You'll find it – and it belongs to someone else.
And that is great for the other person, but it kinda sucks for you.
Especially if what they're blogging about/using the domain name for has absolutely nothing to do with what you do.

My $0.02 is to go ahead and purchase your domain name, if it hasn't already been taken. Even if you don't use it immediately, you have it in your back pocket to set up later on.
So, there you have it. Three things to keep in mind when setting up and naming your blog.
Did this help? What other tips do you have?
And you might find these useful as well: