Stuck for reading material?
Image: David Pritchard, Creative Commons
Just ask your social networks for their recommendations.
I had a $50 gift card to Barnes & Noble that was burning a hole in its sleeve.
I have a habit of using gift cards to get gifts for others, but this time I decided to treat myself.
W00t!

Look at some of the great recommendations I got (and am still getting)
on Twitter: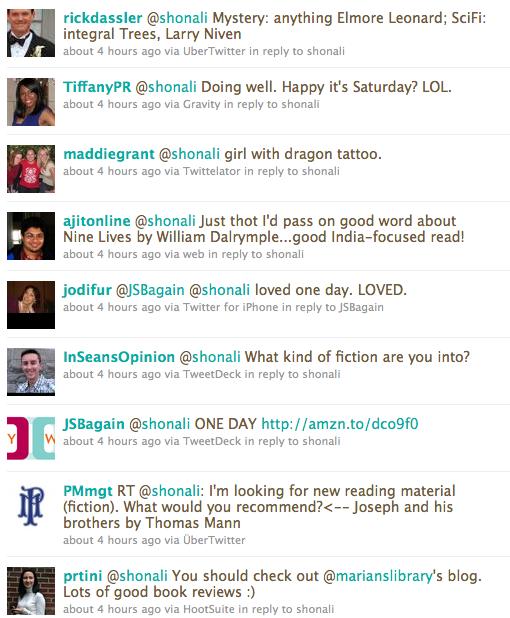 and on Facebook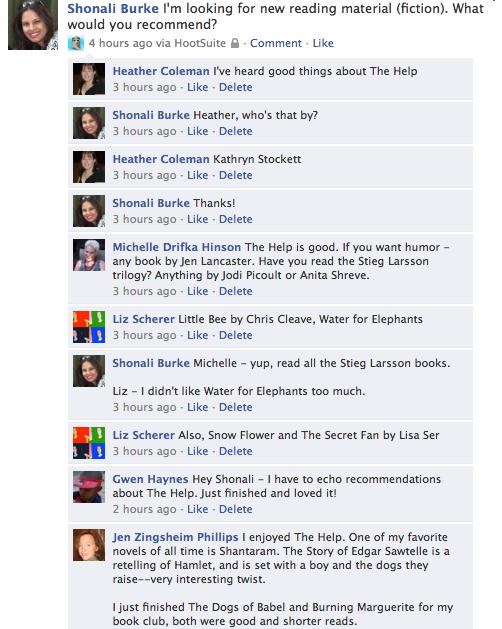 I ended up buying:
Guns, Germs and Steel by Jared Diamond (I heard about it on NPR and have been wanting to read it),
Sea of Poppies by Amitav Ghosh, who is one of the best Indo-Anglian writers EVER,
The Palace of Illusions by Chitra Banerjee-Divakaruni (ditto on the Indo-Anglian author thing, and because I think her take on the Mahabharata might possibly be better than that of Peter Brook's), and
Pilgrim at Tinker Creek by Annie Dillard, which Leah Betty mentioned on Twitter while we were chatting:

And the $50 covered them all (including tax, free shipping).
Double W00t!
So now I have four great books coming my way, and a whole host of others to add to my "must read" list, especially when I need a new book fix.
Yes, I know I could use the library, but I'm one of those people who likes to keep the books they love.
They become some of my best friends, and there's nothing like going into your home library and sitting down for a cuppa to get reacquainted with characters you haven't seen in a while.
Just another way social media makes my life better.
So what if you're not saving the world?
My social networks didn't help me save the world today, or save a dog.
But they added immense value by opening up my world just a little bit more.
And it's only by inhabiting an open, forward-looking world that we can progress, not one that shutters and bars the doors to change.
Thank you, SM; and thank you everyone who gave me such great suggestions.
I'm here because you are.