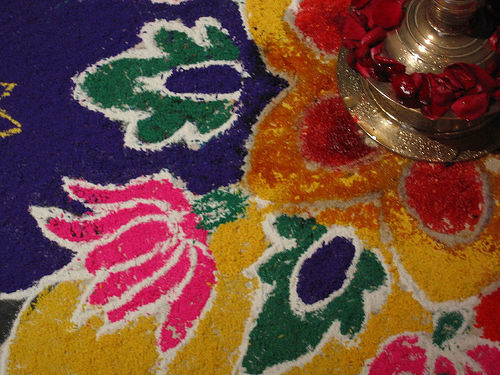 Today is India's 63rd Independence Day (image: melgupta via Flickr, Creative Commons).
In tribute to my country of birth, this edition of Weekly Roundup focuses on writings by, from and of Indian authors (or authors of Indian descent).
1. Innovation and HR's quest to be strategic, by Gautam Ghosh.
Why: Gautam is an excellent and prolific writer (and friend). He's managed to parlay his social media savvy and business smarts into the realm of human resources, an area not typically known for either (sorry, HR people, but there you have it).
2. The age of surveillance from The Comic Project.
Why: First Saudi Arabia, then India, made the news by threatening to clamp down on RIM's BlackBerry service. Anyone interested in transparency – what we deem one of the pillars of social media – should read this post.
3. The ideas of India, by Shashi Tharoor.
Why: A former diplomat, politician and prolific author, Tharoor is anything but shy when it comes to sharing his ideas. And he's taken to Twitter like a tar ball to tennis shoes. Especially if you're unfamiliar with India's history, you should read this.
4. Day 831, by Amitabh Bacchhan.
Image: Kanishka Gangopadhyay, Creative Commons
Why: If you're unfamiliar with Bollywood (it's been around much longer than Slumdog Millionaire), the "Big B" is one of the most iconic and influential living Indians.
Think Tom Cruise and JFK rolled into one, then throw a crown on top. I'm not kidding.
The son of Harivansh Rai Bacchhan, one of India's most beloved modern poets, AB shook the Indian silver screen once he climbed the Bollywood ladder, becoming not just everyman, but the quintessential angry young man.
Apart from being a terrific actor, he's a gifted writer, both in Hindi as well as English.
This particular post is a poetic look at time and change. And if you can read Hindi, it's even better.
5. The "Yes, and… " culture, by Anil Dash.
Why: What if instead of saying, "No, but…" we said, "Yes, and…"? That's what Dash of Expert Labs fame muses on here.
6. What can Steven Slater learn from a pillow fight on board Lufthansa, by Arun Rajagopal.
Why: first, Arun's a friend of mine. Now that that disclosure's out of the way, this is an interesting and different take on the entire Jet Blue ballyhoo.
7. A tryst with destiny, by Jawaharlal Nehru.
Why: I believe this is one of the finest speeches ever written, and given by Jawaharlal Nehru, independent India's first prime minister, as the clock approached midnight on August 15, 1947.
Here's a short clip:

What other great writings have you found from Indians and the Indian diaspora? Do share in the comments section below.
Happy Independence Day.