I "met" Philip Sheldrake a few weeks ago when he started participating in #measurePR.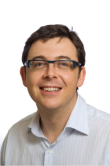 Who's Philip Sheldrake?
According to David Meerman Scott, he's "the independent expert on [social media analytics] tools."
You'll have to scroll down to the comments to see that, but David's post is an excellent read too, so I think it's well worth your time.
He is founder and partner of Influence Crowd, LLP, (photo used with Philip's permission) and "works with organizations to improve their sensitivity to their publics and become more effective and efficient in their proactive and reactive interaction.
"He helps organizations sustain this advantage by identifying appropriate performance measures facilitated by the new marketing technologies, and integrating these into the organization's business performance management scorecard.
"Philip founded and leads the Influence Scorecard™ initiative, attracting the involvement of US thought leaders such as Katie Paine and Ted Shelton, established the PR industry's first foray into Web 3.0 with the foundation of the work on the PR Ontology For Feelings About Things."
Ethics in measurement
One of the discussion points that rears its head frequently during the chat is the efficacy of several of the social media monitoring tools out there.
It usually starts off with someone mentioning or questioning AVE (ad value equivalency) which most of us recoil from like the Energizer bunny on steroids.
That usually leads to someone debating how good (or bad) the latest social media "measurement" tool is.
And, frankly, most of them are ridiculously bad, but they're couched in pretty graphics and some form of endorsement from social media "gurus," so they get breathlessly circulated around the Interwebs.
Pretty and easy? Maybe.
But is it ethical
for companies to come up with these tools to make a buck, regardless of whether they're sound or not?
I don't think so, and that was one of the points I raised when I talked about measuring social media value the WIIFM way.
I think it was during one such discussion, that Philip sent me the following tweet:

I thought this would be a great topic for the chat, so that's what we'll be focusing on tomorrow.
If you can, do go through this excellent presentation from Philip on influence. It won't take long and it will help set the stage for tomorrow's discussion.
And I'd also recommend you read his post on browser history and unethical social media metrics.
See you then!